Product description
A BuzzFeed Pick for "YA Books You Absolutely Must Read This Spring"
A Bustle's Most Anticipated 2019 YA Release
Paste Magazine's Top 10 Most Anticipated YA Novels of 2019
A PopSugar Best YA Book of 2019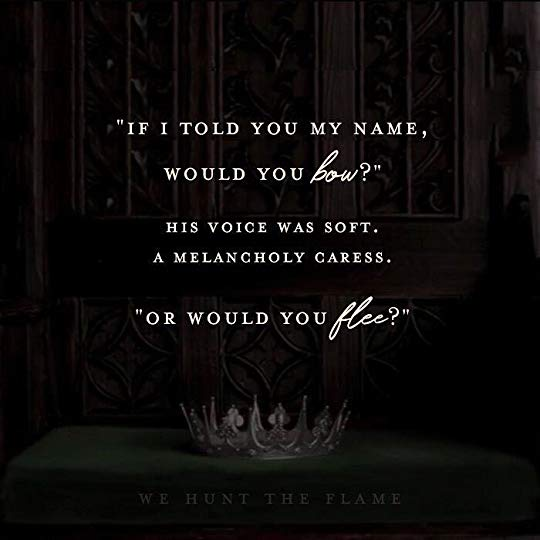 Set in a richly detailed world inspired by ancient Arabia, Hafsah Faizal's We Hunt the Flame--first in the Sands of Arawiya duology--is a gripping debut of discovery, conquering fear, and taking identity into your own hands.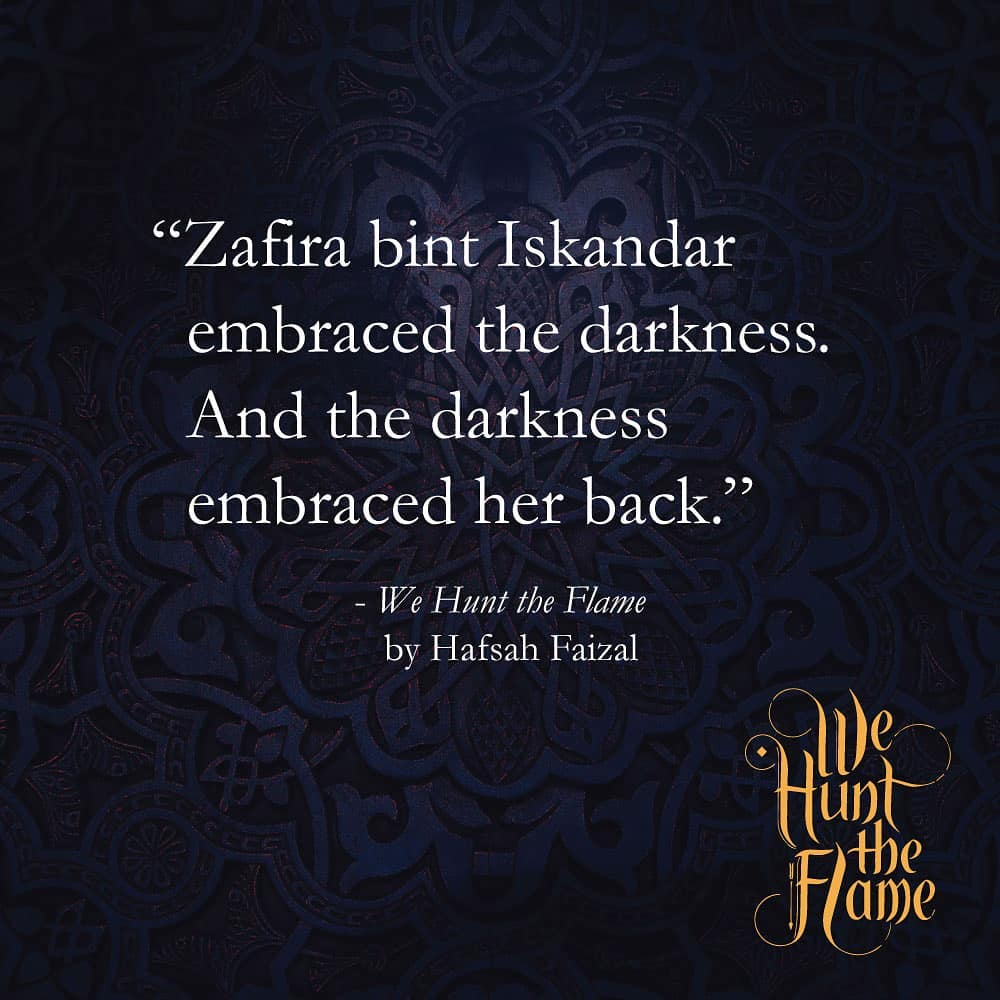 People lived because she killed. People died because he lived.
Zafira is the Hunter, disguising herself as a man when she braves the cursed forest of the Arz to feed her people. Nasir is the Prince of Death, assassinating those foolish enough to defy his autocratic father, the sultan. If Zafira was exposed as a girl, all of her achievements would be rejected; if Nasir displayed his compassion, his father would punish him in the most brutal of ways. Both Zafira and Nasir are legends in the kingdom of Arawiya--but neither wants to be.
War is brewing, and the Arz sweeps closer with each passing day, engulfing the land in shadow. When Zafira embarks on a quest to uncover a lost artifact that can restore magic to her suffering world and stop the Arz, Nasir is sent by the sultan on a similar mission: retrieve the artifact and kill the Hunter. But an ancient evil stirs as their journey unfolds--and the prize they seek may pose a threat greater than either can imagine.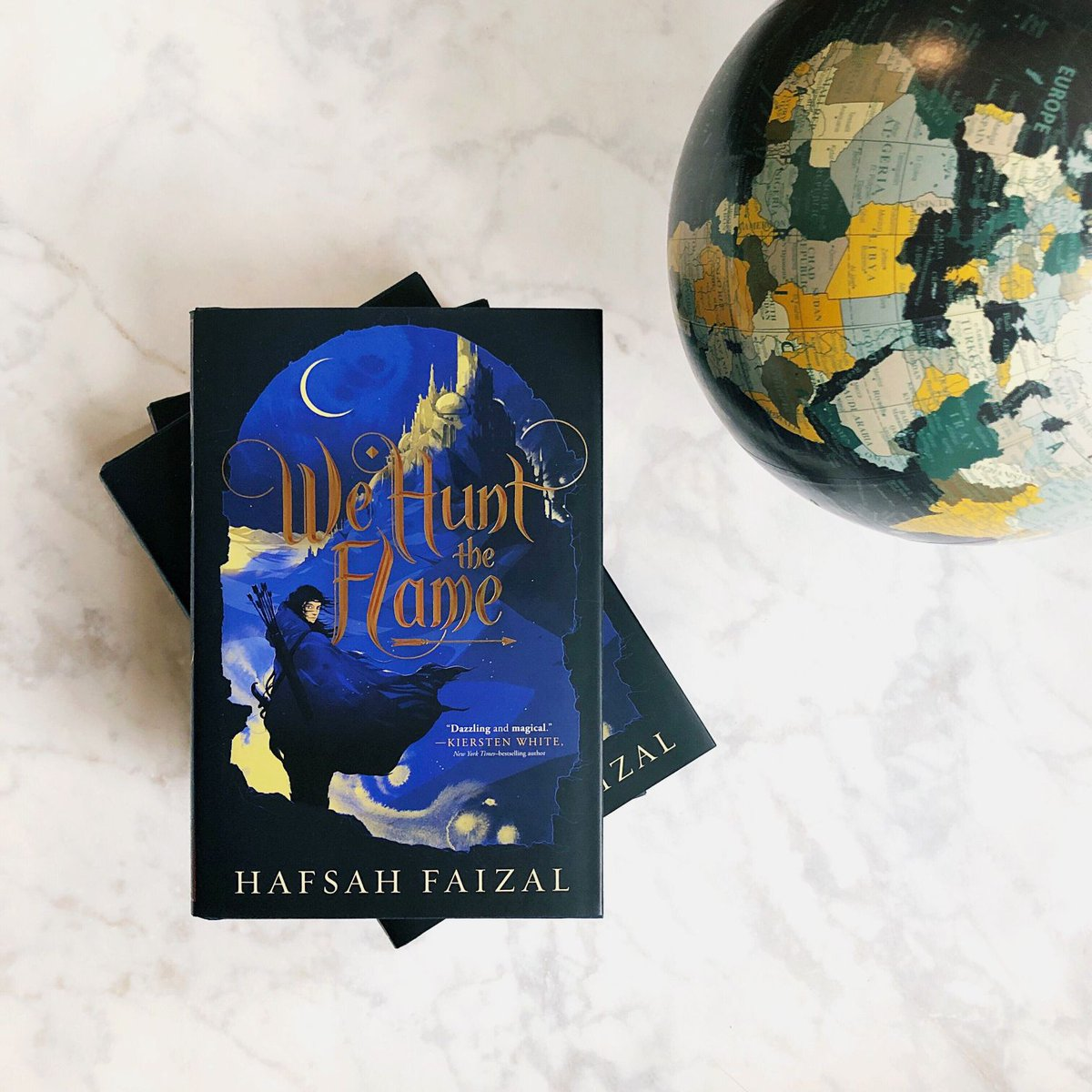 Review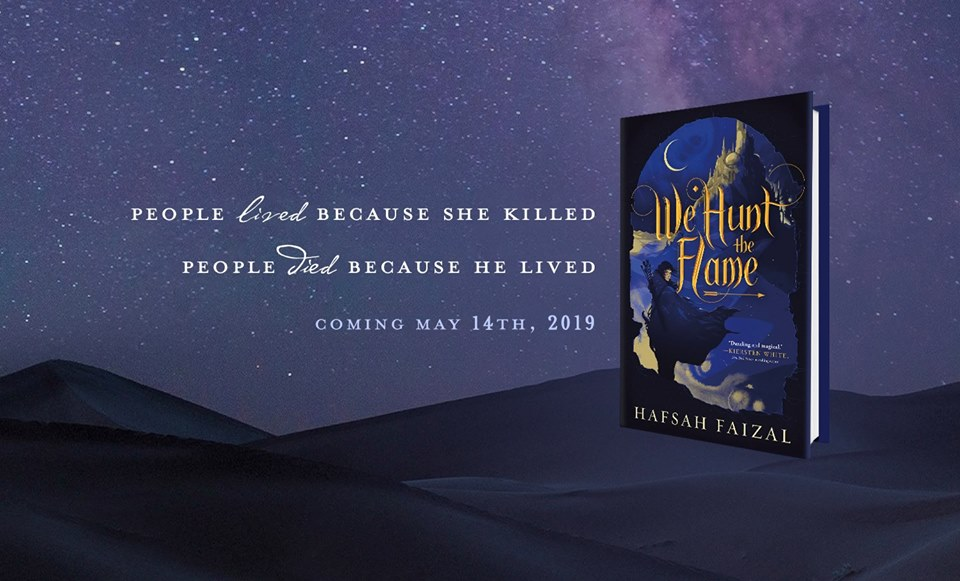 AN INSTANT NEW YORK TIMES BESTSELLER
Barnes & Noble YA Book Club Pick
Teen Vogue Book Club PickA Book of the Month™ SelectionAmazon Best Book of the MonthTHE VERGE:
"10 new science fiction and fantasy books"
BUSTLE:
"Most Anticipated 2019 YA Releases"
BARNES & NOBLE:
"Top 2019 YA Fantasy Release"
PASTE MAGAZINE:
"Top 10 Most Anticipated YA Novels of 2019"
CULTRESS:
"19 Books We Can't Wait to Get Our Hands on in 2019"
BUZZFEED:
"YA Books You Absolutely Must Read This Spring"
BOOKRIOT:
"10 New Enemies-To-Lovers YA Books You Need To Read"
""Could be the next 'Game of Thrones.'" -
BUSTLE
"About to take the industry by storm." -
ENTERTAINMENT WEEKLY
"Enter the cursed world of Arawiya, and meet the girl who defies that curse." -
HYPABLE
"Fans of Sabaa Tahir's AN EMBER IN THE ASHES and Tomi Adeyemi's CHILDREN OF BLOOD AND BONE should get excited for their next obsession." -
SCHOOL LIBRARY JOURNAL
, starred review
"Layering high-stakes action with moods ranging from casual humor to raw anguish, Faizal bends fantasy tropes to her will to tell a fresh and gripping story about love, honor, and self-discovery that will leave readers scrambling for more." -
BOOKLIST
, starred review
"Debut author Faizal paints a vivid world, inspired by ancient Arabia and its mythology, that will appeal to fantasy and romance readers as well as fans of the Assassin's Creed video games." -
KIRKUS REVIEWS
"Fans of Bardugo's SIX OF CROWS or Chokshi's THE STAR-TOUCHED QUEEN will be thrilled with the book's impressive world building, stellar cast, and intricate story." -
BULLETIN OF THE CENTER FOR CHILDREN'S BOOKS
, starred review
"As dazzling and magical as the world Faizal has crafted, WE HUNT THE FLAME should be on every fantasy fan's bookshelf." -
Kiersten White
, New York Times bestselling author
"Hafsah Faizal weaves an intricate tale that brings us not only a richly imagined new world of magic to explore, but more than that, with a deft, wise hand, she charts the yearnings of the human heart, all while delivering breathtaking twists and unexpected turns. A truly stunning debut!" -
Robin LaFevers
, New York Times bestselling author of Courting Darkness and the His Fair Assassin trilogy
"A sparkling debut, full of mystery and magic, vivid characters and rich language." -
Roshani Chokshi
, New York Times bestselling author
"Beautiful storytelling, mesmerizing settings, and fiery characters--WE HUNT THE FLAME is danger, magic, and hope all wrapped into one, and it is intoxicating." -
Evelyn Skye
, New York Times bestselling author of the Crown's Game series
"With fierce characters, deathly challenges, and world-building both lyrical and spellbinding, WE HUNT THE FLAME is unputdownable." -
Marieke Nijkamp
, #1 New York Times bestselling author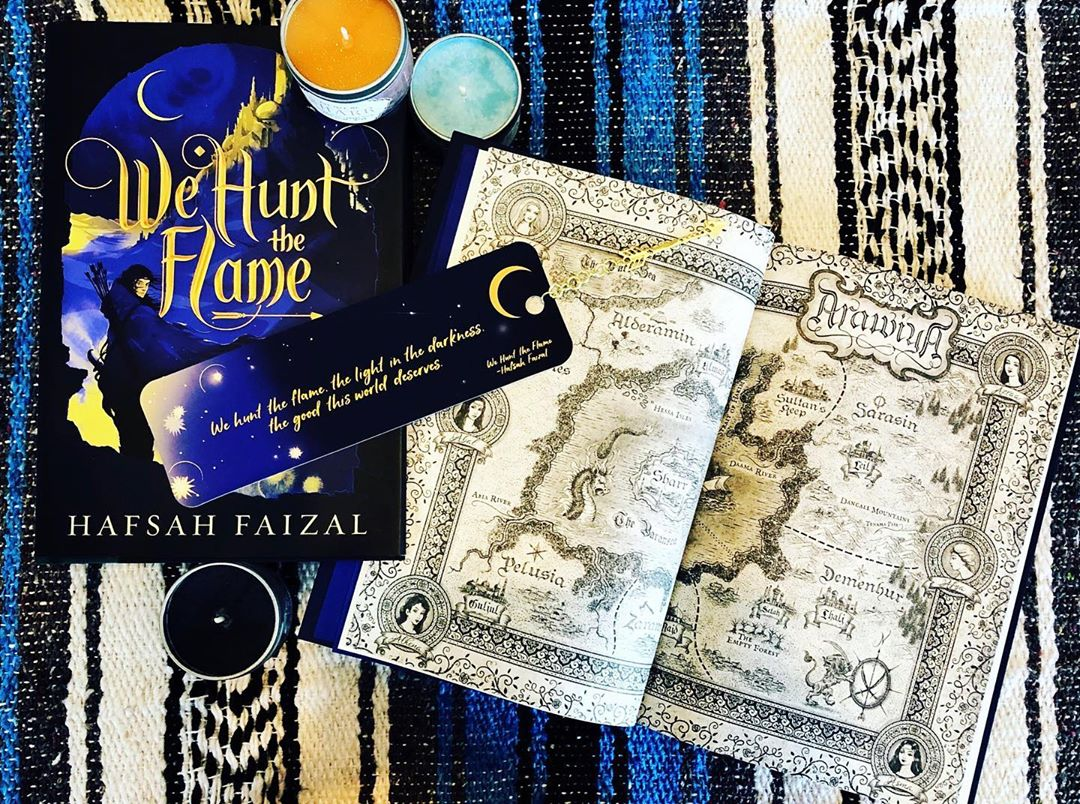 Product details
Paperback | 480 pages
146 x 228 x 32mm | 505g
01 Jun 2019
Farrar, Straus & Giroux Inc
New York, United States
English
0374313644
9780374313647
About the Author
Hafsah Faizal is an American Muslim and brand designer.
She's the founder of IceyDesigns, where she creates websites for authors and beauteous goodies for everyone else.
When she's not writing, she can be found dreaming up her next design, deciding between Assassin's Creed and Skyrim, or traversing the world. Born in Florida and raised in California, she now resides in Texas with her family and a library of books waiting to be devoured.
We Hunt the Flame is her first novel.
Best Sellers
Red Hot Reads
The perfect choice for new & noteworthy releases
Hot Authors (FICTION)
Bookseller's Note
Please note our books are brand new and supplied directly from the publishers.
They are not publisher's returns, remainders or sourced from bookfairs
We do run out of stocks for some titles while every effort has been made to ensure stock is available for all the titles. Hence, we would greatly appreciate if you could Whatsapp or DM us to check on a stock's status before placing your order
Store and online prices may vary due to currency fluctuations.
Pre-orders may be subjected to publisher's or shipping delay
For titles not available, please Whatsapp your order to +6012-2952290
Delivery during CMCO
Due to the aftermath from Covid-19 crisis, all our overseas shipments (that includes a lot of customer orders) have been suspended until further notice. We seek your patience and understanding in this matter.

We still continue to process the online orders but deliveries might be delayed due to the restrictive movements, as even essential services might be working with a skeletal workforce.
In addition, due to a surge in online sales during this CMCO, we would greatly appreciate if you could whatsapp or DM us to check on a stock's status before placing your order.
Urgent orders will not be entertained.
FAQ
1. General Information
BookaliciousMy.easy.co is an online bookstore that allows you to browse, search, as well as buy books online.
2. Product and Services
Locating a book
Please compute the book title or author or ISBN or keyword at the search box and then press the 'search' button.

Price difference between the online store and the physical bookstores
There is price difference

Book/item received incorrect or damaged
Please note we only allow refund for incorrect or defective book/item(s) delivered. However, the policy requires that the incorrect or damaged book be returned to the following address within 7 days from the date of receipt of the book.

Please send your return item(s) to:
BOOKALICIOUS SDN BHD
Lot G22 Ground Floor
The Summit USJ Mall
47600 Subang Jaya
Selangor Darul Ehsan
Phone: 012-2952290

Titles not listed in the online store
Please whatsapp 012-2952290 for enquiries on special orders.
3. Ordering
Placing an order
Step 1: Select the books/items of your choice,
Step 2: Click on the "Add to Cart" icon to continue shopping
Step 3: Key in your email and password. If you are a new customer, fill in details by clicking "Create Account" link. Alternatively, you can use your Facebook Login
Step 4: Check the details of the item(s) you have ordered at your Order Summary,
Step 5: Key in your shipping preferences and delivery address, and click Place Order Now
Step 6: The delivery charges will be shown. Please Re-check your Order Summary. Note: Once confirmed, your order cannot be cancelled/amended.
Step 7: We only accept bank transfer, credit card, GrabPay, TnGPay and Boost as mode of payment. Our bank details is stated at the Payment Details section. Click Place Order Now
Step 8: To verify the payment, please key-in the pertinent details and upload your payment acknowledgement or bank-in slip as proof of payment.
Order confirmation
An e-mail will be sent to you to confirm your order. Also, an Order ID will be given to you, which you can use to check your order status.

Changes to your order
We don't allow amendment to your order. Your order is non-refundable and unchangeable once your order is confirmed.

Order status
We will update you the shipment details via email that encompasses the courier provider, tracking reference and a tracking link once we have posted the item(s).
4. Delivery and Collection
Postal charges are calculated based on weight, dimensions and destination.
If product is in-stock, delivery is within

3 to 14 business days

.
If due to any unforeseen reasons that any product(s) in a Transaction is not-in-stock, we will be in contact with the customer should the whole order be cancelled, whether the customer accepts partial delivery or replace the product(s) that is unavailable.
In the event that the item(s) or parcel is undelivered and/or unclaimed by the customer from Courier Company and item(s) / parcel is returned to Bookalicious Sdn Bhd, we will cancel and refund the order. Customer will have to re-submit a fresh new order. Re-delivery request shall NOT be entertained.
Free Shipping within Malaysia is available for orders above a

minimum purchase amount of RM210

.

Orders will be shipped on business days only. Please note business days exclude public holidays and weekends.
5. Returns and Refunds (FOR ONLINE PURCHASES ONLY)
Return based on "change of mind" is not accepted by any means.
We will accept returns from customers for purchases sent back and received by us within 7 days of receipt of the shipment ONLY on these following conditions:
Incorrect or defective item(s) delivered; and
The items returned to us is in its original condition.
We will extend a full refund for the price of any item that fulfills the above requirements. We regret that shipping cost for your purchase will only be refunded if the return had been due to an oversight on our part.
Please send your return item(s) to:
BOOKALICIOUS SDN BHD
Lot G22 Ground Floor
The Summit USJ Mall
47600 Subang Jaya
Selangor Darul Ehsan
Phone: 012-2952290
In the event that the item(s) or parcel is undelivered and/or unclaimed by the customer from our courier partners and item(s)/ parcel is returned to Bookalicious Sdn Bhd, we will cancel and refund the order. Re-delivery request shall NOT be entertained. A fresh new order has to be re-submitted.
Should you have any problems or inquiries regarding our Return Policy, please feel free to whatsapp us at 012-2952290
IMPORTANT: Please WS or DM stock status before placing your order.