Product Description

A deeply moving collection of personal essays from John Green, the #1 bestselling author of The Fault in Our Stars and Turtles All the Way Down.
The Anthropocene is the current geologic age, in which humans have profoundly reshaped the planet and its biodiversity. In this remarkable symphony of essays adapted and expanded from his groundbreaking podcast, bestselling author John Green reviews different facets of the human-centered planet on a five-star scale—from the QWERTY keyboard and sunsets to Canada geese and Penguins of Madagascar.


Funny, complex, and rich with detail, the reviews chart the contradictions of contemporary humanity. As a species, we are both far too powerful and not nearly powerful enough, a paradox that came into sharp focus as we faced a global pandemic that both separated us and bound us together.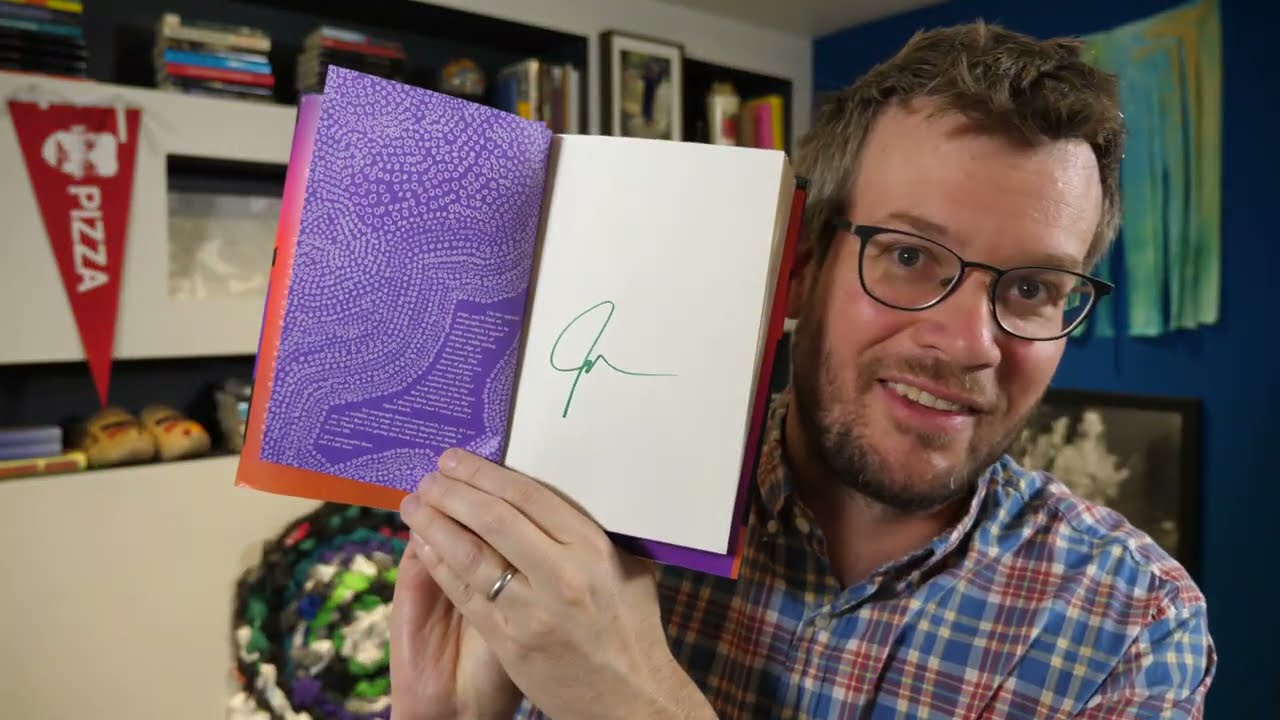 John Green's gift for storytelling shines throughout this masterful collection. The Anthropocene Reviewed is a open-hearted exploration of the paths we forge and an unironic celebration of falling in love with the world.



Reviews
"The perfect book for right now." –People

"Makes the wondrous small...and the small wondrous." –San Francisco Chronicle
"The Anthropocene Reviewed is the perfect book to read over lunch or to keep on your nightstand, whenever you need a reminder of what it is to feel small and human, in the best possible way." –San Francisco Chronicle

"There is something of the sermon in [Green's] essays as he mixes curiosity and erudition with confession, compassion, and wit, searching for illuminating life lessons amid life's dark chaos. His particular mix of irony and sincerity enables him to embrace both the sublime and the ridiculous." –Booklist

"Lyrical and beautiful, funny and hopeful, intricate and entertaining all at once.... Green may have made his name by writing fiction (and for good reason), but this first foray into nonfiction is his most mature, compelling, and beautifully written book yet." –Shondaland.com

"What Green is really telling us with these unexpected stories about Sycamore Trees, Canada Geese, and Dr Pepper is how much there is to love in the world and why that love is worth the effort." –NPR.com

★ "Each short review is rich with meaning and filled with surprises and together, they amount to a resonant paean to hard-won hope." –Publishers Weekly, starred review

★ "Each of the entries in The Anthropocene Reviewed: Essays on a Human-Centered Planet, is a small gem, polished to near perfection…. What unites them is [Green's] uncanny ability to structure each piece as both a critique of human foibles and an embracing of them." –Shelf Awareness, starred review

"In his novels, John Green conjures richly imagined, heartfelt drama that lovingly explores the human condition. With The Anthropocene Reviewed, John pulls off the same magic trick while writing about the largest ball of paint...and it is glorious. Every page is full of insight. I loved it." –Roman Mars, creator and host of 99% Invisible

"The Anthropocene Reviewed somehow satisfies all the contradictory demands I have for a book right now: it stimulates my brain while getting me out of my head while taking me to faraway places while grounding me in the wonders of my everyday. I'm so glad it's here. I need it." –Anna Sale, host of Death, Sex & Money and author of Let's Talk About Hard Things

"If loving something out loud takes courage, and I think it does, John Green is Evel Knievel and The Anthropocene Reviewed is a series of ever-more-impressive motorcycle jumps." –Latif Nasser, co-host of Radiolab
Product Details
Publisher : Dutton; Signed edition (May 18, 2021)
Language : English
Hardcover : 304 pages
ISBN-10 : 0525555218
ISBN-13 : 978-0525555216
Item Weight : 1.1 pounds
Dimensions : 5.8 x 1.09 x 8.55 inches
Customer Reviews:
About the Author
John Green is the award-winning, #1 bestselling author of books including Looking for Alaska, The Fault in Our Stars, and Turtles All the Way Down. His books have received many accolades, including a Printz Medal, a Printz Honor, and an Edgar Award. John has twice been a finalist for the LA Times Book Prize and was selected by TIME magazine as one of the 100 Most Influential People in the World. He is also the writer and host of the critically acclaimed podcast The Anthropocene Reviewed. With his brother, Hank, John has co-created many online video projects, including Vlogbrothers and the educational channel Crash Course. He lives with his family in Indianapolis, Indiana. You can visit John online at johngreenbooks.com.
Best Sellers
Red Hot Reads
The perfect choice for new & noteworthy releases
Hot Authors (FICTION)
Bookseller's Note
Please note our books are brand new and supplied directly from the publishers.
They are not publisher's returns, remainders or sourced from bookfairs
We do run out of stocks for some titles while every effort has been made to ensure stock is available for all the titles. Hence, we would greatly appreciate if you could Whatsapp or DM us to check on a stock's status before placing your order
Store and online prices may vary due to currency fluctuations.
Pre-orders may be subjected to publisher's or shipping delay
For titles not available, please Whatsapp your order to +6012-2952290
Delivery during CMCO
Due to the aftermath from Covid-19 crisis, all our overseas shipments (that includes a lot of customer orders) have been suspended until further notice. We seek your patience and understanding in this matter.

We still continue to process the online orders but deliveries might be delayed due to the restrictive movements, as even essential services might be working with a skeletal workforce.
In addition, due to a surge in online sales during this CMCO, we would greatly appreciate if you could whatsapp or DM us to check on a stock's status before placing your order.
Urgent orders will not be entertained.
FAQ
1. General Information
BookaliciousMy.easy.co is an online bookstore that allows you to browse, search, as well as buy books online.
2. Product and Services
Locating a book
Please compute the book title or author or ISBN or keyword at the search box and then press the 'search' button.

Price difference between the online store and the physical bookstores
There is price difference

Book/item received incorrect or damaged
Please note we only allow refund for incorrect or defective book/item(s) delivered. However, the policy requires that the incorrect or damaged book be returned to the following address within 7 days from the date of receipt of the book.

Please send your return item(s) to:
BOOKALICIOUS SDN BHD
Lot G22 Ground Floor
The Summit USJ Mall
47600 Subang Jaya
Selangor Darul Ehsan
Phone: 012-2952290

Titles not listed in the online store
Please whatsapp 012-2952290 for enquiries on special orders.
3. Ordering
Placing an order
Step 1: Select the books/items of your choice,
Step 2: Click on the "Add to Cart" icon to continue shopping
Step 3: Key in your email and password. If you are a new customer, fill in details by clicking "Create Account" link. Alternatively, you can use your Facebook Login
Step 4: Check the details of the item(s) you have ordered at your Order Summary,
Step 5: Key in your shipping preferences and delivery address, and click Place Order Now
Step 6: The delivery charges will be shown. Please Re-check your Order Summary. Note: Once confirmed, your order cannot be cancelled/amended.
Step 7: We only accept bank transfer, credit card, GrabPay, TnGPay and Boost as mode of payment. Our bank details is stated at the Payment Details section. Click Place Order Now
Step 8: To verify the payment, please key-in the pertinent details and upload your payment acknowledgement or bank-in slip as proof of payment.
Order confirmation
An e-mail will be sent to you to confirm your order. Also, an Order ID will be given to you, which you can use to check your order status.

Changes to your order
We don't allow amendment to your order. Your order is non-refundable and unchangeable once your order is confirmed.

Order status
We will update you the shipment details via email that encompasses the courier provider, tracking reference and a tracking link once we have posted the item(s).
4. Delivery and Collection
Postal charges are calculated based on weight, dimensions and destination.
If product is in-stock, delivery is within

3 to 14 business days

.
If due to any unforeseen reasons that any product(s) in a Transaction is not-in-stock, we will be in contact with the customer should the whole order be cancelled, whether the customer accepts partial delivery or replace the product(s) that is unavailable.
In the event that the item(s) or parcel is undelivered and/or unclaimed by the customer from Courier Company and item(s) / parcel is returned to Bookalicious Sdn Bhd, we will cancel and refund the order. Customer will have to re-submit a fresh new order. Re-delivery request shall NOT be entertained.
Free Shipping within Malaysia is available for orders above a

minimum purchase amount of RM210

.

Orders will be shipped on business days only. Please note business days exclude public holidays and weekends.
5. Returns and Refunds (FOR ONLINE PURCHASES ONLY)
Return based on "change of mind" is not accepted by any means.
We will accept returns from customers for purchases sent back and received by us within 7 days of receipt of the shipment ONLY on these following conditions:
Incorrect or defective item(s) delivered; and
The items returned to us is in its original condition.
We will extend a full refund for the price of any item that fulfills the above requirements. We regret that shipping cost for your purchase will only be refunded if the return had been due to an oversight on our part.
Please send your return item(s) to:
BOOKALICIOUS SDN BHD
Lot G22 Ground Floor
The Summit USJ Mall
47600 Subang Jaya
Selangor Darul Ehsan
Phone: 012-2952290
In the event that the item(s) or parcel is undelivered and/or unclaimed by the customer from our courier partners and item(s)/ parcel is returned to Bookalicious Sdn Bhd, we will cancel and refund the order. Re-delivery request shall NOT be entertained. A fresh new order has to be re-submitted.
Should you have any problems or inquiries regarding our Return Policy, please feel free to whatsapp us at 012-2952290
IMPORTANT: Please WS or DM stock status before placing your order.