Product Description
A mindbending new collection of short stories from the unique, internationally acclaimed author of Norwegian Wood and The Wind-up Bird Chronicle.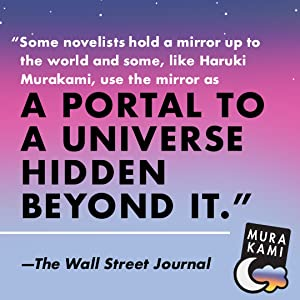 The eight masterly stories in this new collection are all told in the first person by a classic Murakami narrator. From nostalgic memories of youth, meditations on music and an ardent love of baseball to dreamlike scenarios, an encounter with a talking monkey and invented jazz albums, together these stories challenge the boundaries between our minds and the exterior world. Occasionally, a narrator who may or may not be Murakami himself is present. Is it memoir or fiction? The reader decides.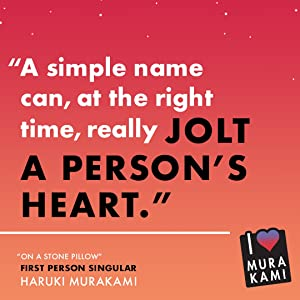 Philosophical and mysterious, the stories in First Person Singular all touch beautifully on love and solitude, childhood and memory. . . all with a signature Murakami twist.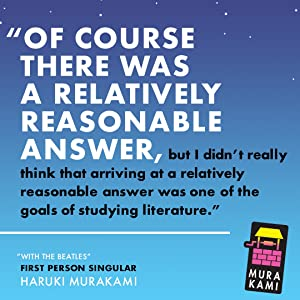 Reviews
"Murakami's engrossing collection offers a crash course in his singular style and vision, blending passion for music and baseball and nostalgia for youth with portrayals of young love and moments of magical realism . . . Murakami's gift for evocative, opaque magical realism shines in "Charlie Parker Plays Bossa Nova," in which a review of a fictional album breathes new life into the ghost of the jazz great, and "Confessions of a Shinagawa Monkey," wherein a talking monkey ruminates with a traveler on love and belonging. Murakami finds ample material in young love and sex, showcased in "On a Stone Pillow," in which a young man's brief tryst with a coworker, unremarkable in itself, takes on a degree of immortality after she mails him her poetry . . . These shimmering stories are testament to Murakami's talent and enduring creativity."
—Publishers Weekly (Starred Review)

"Whether in his epic-scale novels or in his shorter works, much of Murakami's appeal has always come from the beguiling way in which his characters react to wildly fantastical events in the most matter-of-fact manner, ever ready to accept how the twists and turns of everyday life can blend into more audacious alternate realities. In these eight stories, we see that phenomenon most disarmingly in "Confessions of a Shinagawa Monkey," in which a monkey strides into a sauna at a remote hotel and asks the narrator if he would like to have his back scrubbed . . . The glue that holds together Murakami's blending realities—in these stories and, indeed, in all of his fiction—is always the narrator's love for something (a woman, a song, a baseball team, a moment in the past) that is both life-giving and deeply melancholic. Masterful short fiction."
—Bill Ott, Booklist (Starred Review)

"You can't have a conversation about literary fiction of the past 50 years without mentioning Haruki Murakami, and First Person Singular reminds us why. . . . As one of the standard-bearers of contemporary magical realism, Murakami has traveled deep into the hearts and minds of both his characters and his readers. In First Person Singular, he offers eight new stories, all told in first person—hence the title—as perhaps memoir, perhaps fiction. For example, "The Yakult Swallows Poetry Collection" finds a baseball-loving writer named Haruki Murakami musing on his favorite team and the ties that bind us together. Murakami is always blurring lines, and here it's left up to the reader to decide what's real. By distorting reality, the author creates a special closeness to his audience, and he acknowledges this relationship with intelligence and grace."
—Eric Ponce, BookPage

"A new collection of stories from the master of the strange, enigmatic twist of plot . . . Music is never far from a Murakami yarn, though always with an unexpected turn: Charlie Parker comes in a dream to tell one young man that death is pretty boring and meaningless . . . Murakami's characters are typically flat of affect, protesting their ugliness and ordinariness, and puzzled or frightened by things as they are. But most are also philosophical even about those ordinary things, as is the narrator of that fine Beatles-tinged tale, who ponders why it is that pop songs are important and informative in youth, when our lives are happiest . . . An essential addition to any Murakami fan's library."
—Kirkus (Starred Review)

"The versatile and prolific Murakami collects eight first-person stories that affirm his obsessions—American pop music and magical realism, baseball and sex—yet break new literary ground. From a messy hookup to an imaginary Charlie Parker album to a monkey masseur, the Japanese maestro taps the weirdness of the everyday, exposing conflicts that simmer within us all."
—Oprah Daily
Product Details (US Edition)
Publisher : Knopf (April 6, 2021)
Language : English
Hardcover : 256 pages
ISBN-10 : 0593318072
ISBN-13 : 978-0593318072
Item Weight : 13.4 ounces
Dimensions : 5.29 x 0.97 x 8.27 inches
About the Author
Haruki Murakami was born in Kyoto in 1949 and now lives near Tokyo. His work has been translated into more than fifty languages, and the most recent of his many international honors is the Jerusalem Prize, whose previous recipients include J. M. Coetzee, Milan Kundera, and V. S. Naipaul.
Best Sellers
Red Hot Reads
The perfect choice for new & noteworthy releases
Hot Authors (FICTION)
Bookseller's Note
Please note our books are brand new and supplied directly from the publishers.
They are not publisher's returns, remainders or sourced from bookfairs
We do run out of stocks for some titles while every effort has been made to ensure stock is available for all the titles. Hence, we would greatly appreciate if you could Whatsapp or DM us to check on a stock's status before placing your order
Store and online prices may vary due to currency fluctuations.
Pre-orders may be subjected to publisher's or shipping delay
For titles not available, please Whatsapp your order to +6012-2952290
Delivery during CMCO
Due to the aftermath from Covid-19 crisis, all our overseas shipments (that includes a lot of customer orders) have been suspended until further notice. We seek your patience and understanding in this matter.

We still continue to process the online orders but deliveries might be delayed due to the restrictive movements, as even essential services might be working with a skeletal workforce.
In addition, due to a surge in online sales during this CMCO, we would greatly appreciate if you could whatsapp or DM us to check on a stock's status before placing your order.
Urgent orders will not be entertained.
FAQ
1. General Information
BookaliciousMy.easy.co is an online bookstore that allows you to browse, search, as well as buy books online.
2. Product and Services
Locating a book
Please compute the book title or author or ISBN or keyword at the search box and then press the 'search' button.

Price difference between the online store and the physical bookstores
There is price difference

Book/item received incorrect or damaged
Please note we only allow refund for incorrect or defective book/item(s) delivered. However, the policy requires that the incorrect or damaged book be returned to the following address within 7 days from the date of receipt of the book.

Please send your return item(s) to:
BOOKALICIOUS SDN BHD
Lot G22 Ground Floor
The Summit USJ Mall
47600 Subang Jaya
Selangor Darul Ehsan
Phone: 012-2952290

Titles not listed in the online store
Please whatsapp 012-2952290 for enquiries on special orders.
3. Ordering
Placing an order
Step 1: Select the books/items of your choice,
Step 2: Click on the "Add to Cart" icon to continue shopping
Step 3: Key in your email and password. If you are a new customer, fill in details by clicking "Create Account" link. Alternatively, you can use your Facebook Login
Step 4: Check the details of the item(s) you have ordered at your Order Summary,
Step 5: Key in your shipping preferences and delivery address, and click Place Order Now
Step 6: The delivery charges will be shown. Please Re-check your Order Summary. Note: Once confirmed, your order cannot be cancelled/amended.
Step 7: We only accept bank transfer, credit card, GrabPay, TnGPay and Boost as mode of payment. Our bank details is stated at the Payment Details section. Click Place Order Now
Step 8: To verify the payment, please key-in the pertinent details and upload your payment acknowledgement or bank-in slip as proof of payment.
Order confirmation
An e-mail will be sent to you to confirm your order. Also, an Order ID will be given to you, which you can use to check your order status.

Changes to your order
We don't allow amendment to your order. Your order is non-refundable and unchangeable once your order is confirmed.

Order status
We will update you the shipment details via email that encompasses the courier provider, tracking reference and a tracking link once we have posted the item(s).
4. Delivery and Collection
Postal charges are calculated based on weight, dimensions and destination.
If product is in-stock, delivery is within

3 to 14 business days

.
If due to any unforeseen reasons that any product(s) in a Transaction is not-in-stock, we will be in contact with the customer should the whole order be cancelled, whether the customer accepts partial delivery or replace the product(s) that is unavailable.
In the event that the item(s) or parcel is undelivered and/or unclaimed by the customer from Courier Company and item(s) / parcel is returned to Bookalicious Sdn Bhd, we will cancel and refund the order. Customer will have to re-submit a fresh new order. Re-delivery request shall NOT be entertained.
Free Shipping within Malaysia is available for orders above a

minimum purchase amount of RM210

.

Orders will be shipped on business days only. Please note business days exclude public holidays and weekends.
5. Returns and Refunds (FOR ONLINE PURCHASES ONLY)
Return based on "change of mind" is not accepted by any means.
We will accept returns from customers for purchases sent back and received by us within 7 days of receipt of the shipment ONLY on these following conditions:
Incorrect or defective item(s) delivered; and
The items returned to us is in its original condition.
We will extend a full refund for the price of any item that fulfills the above requirements. We regret that shipping cost for your purchase will only be refunded if the return had been due to an oversight on our part.
Please send your return item(s) to:
BOOKALICIOUS SDN BHD
Lot G22 Ground Floor
The Summit USJ Mall
47600 Subang Jaya
Selangor Darul Ehsan
Phone: 012-2952290
In the event that the item(s) or parcel is undelivered and/or unclaimed by the customer from our courier partners and item(s)/ parcel is returned to Bookalicious Sdn Bhd, we will cancel and refund the order. Re-delivery request shall NOT be entertained. A fresh new order has to be re-submitted.
Should you have any problems or inquiries regarding our Return Policy, please feel free to whatsapp us at 012-2952290
IMPORTANT: Please WS or DM stock status before placing your order.