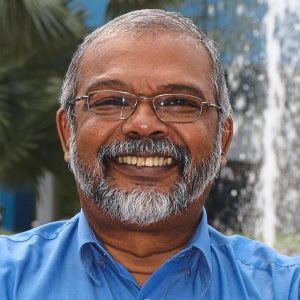 via Nottingham
Malachi Edwin Vethamani is currently Professor, School of English, University of Nottingham Malaysia Campus. He holds a doctorate in Literature in English from the University of Nottingham, England.
He is a recipient of the Chevening Award (1993-1996) and the Fulbright Scholarship (2000).
He received the Asian Education Leadership Award from the World Education Congress in Mumbai, India in June 2013.
His areas of research include New Literatures in English, Malaysian Literature in English, Modern and Contemporary Literature, New Englishes, Malaysian English.
His latest publication is a collection of his poems entitled, 'Complicated Lives' (Petaling Jaya: Maya Press).
In 2015 he published 'A Bibliography of Malaysian Literature in English' (Maya Press, 2015).
He has a column in the 'New Sunday Times' which delves on English Language and Literature in English.