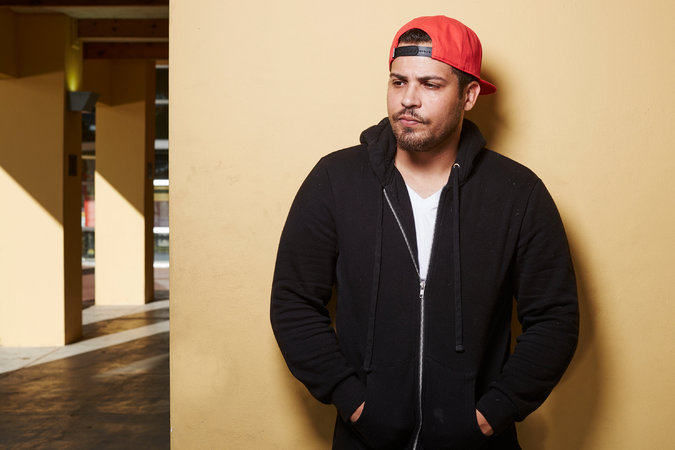 Robert M. Drake Is The Bard Of Instagram
The social media poet has become a worldwide phenomenon.

BY MICHELLE DREYER, SOUTHERN NEW HAMPSHIRE UNIVERSITY
Poetry is a beautiful form of expression, and Robert M. Drake uses modern methods to create his own poetry. He doesn't stick to the cheap rhyme and constricted form like some poets, and he doesn't even create spoken-word pieces like many contemporary poets do now. His poetry is simply his feelings and thoughts put into short sentences and brief passages, making his books easy to read and understand.
Drake, who is better known as RM Drake, became the most famous Instagram poet as he used the social media app as a platform for his writing. In an interview with Fusion Media, Drake said that his Instagram took off when actress Sophia Bush and one of the Kardashians began sharing his work. To date, he has around 1.8 million followers.
In 2014, he self-published his first two books: "Science: The Stars in Me are the Stars in You" and "Beautiful Chaos." Since then, he has written many more poetry collections on subjects like love and loneliness to life lessons and more. He describes his writing as "things that I feel, little stories that I have in my head, moments that I think are unexplored. Sometimes I take tragic events and I make them beautiful in a literal way."
Some of the lines in his books have been previously published in his other books, and while I'm not exactly sure of the reason, my best guess would be that those lines are special in some way or he believes everyone needs to read those lines regardless of which of his books they choose to read. Either way, reading them in multiple books makes the audience analyze its meaning a bit more and maybe even relate to them personally.
He mentioned in his interview that one of his favorite lines is: "Maybe all that we are is what people expect us to be," which he repeats in a few of his books. Another excerpt he admires is: "The best kind of humans are the ones who stay." I think everyone can agree with that one.
The topics that Drake covers in his books are relatable in various instances, and it seems that teenagers and young adults are particularly attracted to his words. Surely, it's because they see themselves in his writing, which allows them to see that they are not alone in their thoughts and feelings. You could even say that his poems are more authentic than the work of other modern writers, making his pieces a must-read for all.
Some of his books are quite interesting because he sometimes throws in a poem about unexpected topics. For example, poem about dogs in "Science" and a poem titled "Robin Williams" in "Black Butterfly." In "Beautiful Chaos," he uses a fascinating technique, incorporating what he calls "Little Notes" at numerous times throughout the book.
At first, I thought these were just poems he didn't have titles for, but I realized that many of the notes were aimed at the reader, telling them life lessons like in "Little Note: 12," when Drake states: "Let your love flow where the beautiful things are and something beautiful will always come your way."
Love is a huge theme in all of his books, whether he is discussing being in love or experiencing heartbreak. People can sympathize and empathize with Drake and his experiences with love, and they might even take some advice from him on what to do about it all. Loneliness is also a prominent subject with words that describe the pain he feels from losing a girl, how much he misses her and how badly he wishes he could have her.
Moreover, self-love and self-destruction exist in some of Drake's books, and both of these themes shine in his writing. He notes how he has attempted to self-destruct because of the madness of being in love, which clearly shows the crazy toll love can have on a person.
Self-love, however, is taught and emphasized in one of Drake's latest collections, "Moon Theory," published in 2017. Advice is prominent in this work as he encourages the reader to live their life to the fullest and reach their potential because he knows they are capable of accomplishing great things
In 2018, Drake published three other books in the category of the self: "Light Theory," "Chaos Theory" and "Star Theory." He believes the excerpts in these books cannot be learned in school as he writes about self-exploration, self-forgiveness and self-expression. He clearly believes that these are elements everyone should learn about. Drake's next book is a joint poetry collection with R.H. Sin that is set to be published in February 2019, and I'm sure it will not disappoint.
One thing I've learned about reading RM Drake's books is that you cannot read one of them or all of them in one sitting. I don't mean that reading one of his books isn't possible in a day, but I mean that you don't want to hurry through the collections because then you're rushing the beauty of his words and the analysis that he intended you to partake in while reading. So, read one slowly, breathe in the words and relate to it if you can. Remember to just enjoy it all.
Article source: https://studybreaks.com/culture/reads/robert-m-drake-instagram-poet/
Sorry, there is no product in this collection