Product Description

NEW YORK TIMES BESTSELLER
From the author of Uprooted and Spinning Silver comes the story of an unwilling dark sorceress who is destined to rewrite the rules of magic.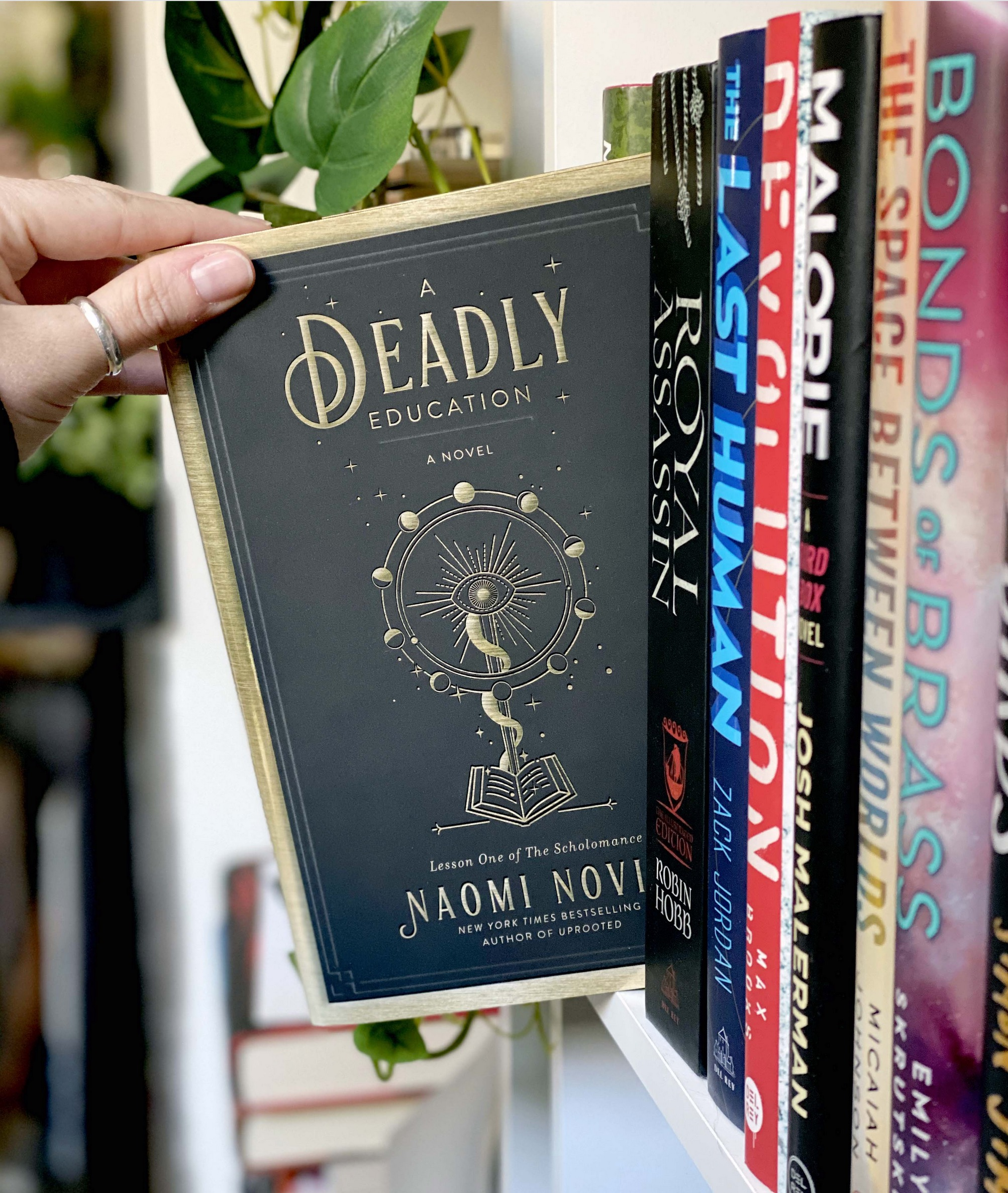 I decided that Orion Lake needed to die after the second time he saved my life.

Everyone loves Orion Lake. Everyone else, that is. Far as I'm concerned, he can keep his flashy combat magic to himself. I'm not joining his pack of adoring fans.

I don't need help surviving the Scholomance, even if they do. Forget the hordes of monsters and cursed artifacts, I'm probably the most dangerous thing in the place. Just give me a chance and I'll level mountains and kill untold millions, make myself the dark queen of the world.

At least, that's what the world expects. Most of the other students in here would be delighted if Orion killed me like one more evil thing that's crawled out of the drains. Sometimes I think they want me to turn into the evil witch they assume I am. The school certainly does.

But the Scholomance isn't getting what it wants from me. And neither is Orion Lake. I may not be anyone's idea of the shining hero, but I'm going to make it out of this place alive, and I'm not going to slaughter thousands to do it, either.

Although I'm giving serious consideration to just one.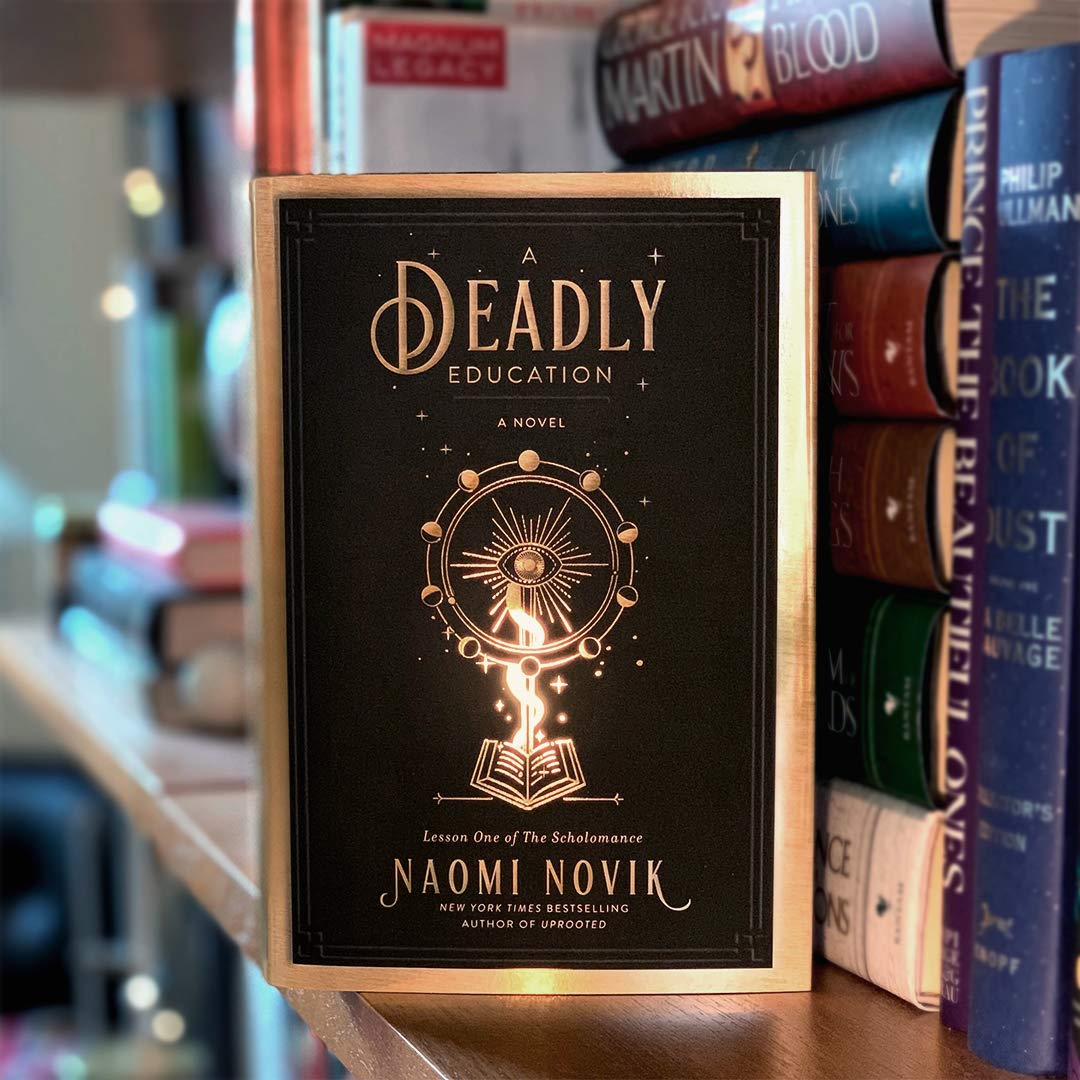 With flawless mastery, Naomi Novik creates a school bursting with magic like you've never seen before, and a heroine for the ages—a character so sharply realized and so richly nuanced that she will live on in hearts and minds for generations to come.
Reviews
"The Scholomance is the dark school of magic I've been waiting for, and its wise, witty, and monstrous heroine is one I'd happily follow anywhere—even into a school full of monsters."—Katherine Arden, New York Times bestselling author of The Bear and the Nightingale

"At the Scholomance, monsters are everywhere and the breakfast might kill you, but the wonderful cast of characters will grab ahold of your heart and you'll never want to leave this deadly school. Naomi Novik skillfully combines sharp humor with layers of imagination to build a fantasy that delights on every level. I loved this brilliant book."—Stephanie Garber, #1 New York Times bestselling author of the Caraval series

"Eyeball-meltingly brilliant . . . Novik is, quite simply, a genius."—Kiersten White, New York Times bestselling author of And I Darken

"Hilarious and wild! Take any fictional magic school, make it as over-the-top dangerous as possible, and populate it with a bunch of snarky teenagers; the result is pure batshit fun."—N. K. Jemisin, New York Times bestselling author of The City We Became

"A Deadly Education is a nightmare from which I never wished to wake: savage, inventive, and soulful. Novik grasps the totems of childhood that linger in your mind—schools of magic, curses, cutthroat classmates, monsters—only to twist them into a grand new tale that'll make you believe in magic again."—Pierce Brown, New York Times bestselling author of Dark Age

"A Deadly Education is a book that lives up to its gobsmacker of an opening sentence and follows right through to its shocker of an ending that promises more to come. Naomi Novik is relentlessly innovative and entertaining."—Terry Brooks, New York Times bestselling author of The Last Druid

"Friendship in spite of itself; danger that doesn't quit—what a wildly magical ride!"—Tamora Pierce, New York Times bestselling author of Tempests and Slaughter
Product Details
Paperback : 336 pages
ISBN-13 : 9780593159668
Product Dimensions : 5.77 x 1.08 x 8.54 inches
Publisher : Del Rey (September 29, 2020)
Language: : English
Customer Reviews:
By the Same Author
About the Author
An avid reader of fantasy literature since age six, Naomi Novik is also a history buff with a particular fascination with the Napoleonic era and a fondness for the work of Patrick O'Brian and Jane Austen. She lives with her husband and daughter in New York City along with many purring computers.
Best Sellers
Red Hot Reads
The perfect choice for new & noteworthy releases
Hot Authors (FICTION)
Bookseller's Note
Please note our books are brand new and supplied directly from the publishers.
They are not publisher's returns, remainders or sourced from bookfairs
We do run out of stocks for some titles while every effort has been made to ensure stock is available for all the titles. Hence, we would greatly appreciate if you could Whatsapp or DM us to check on a stock's status before placing your order
Store and online prices may vary due to currency fluctuations.
Pre-orders may be subjected to publisher's or shipping delay
For titles not available, please Whatsapp your order to +6012-2952290
Delivery during CMCO
Due to the aftermath from Covid-19 crisis, all our overseas shipments (that includes a lot of customer orders) have been suspended until further notice. We seek your patience and understanding in this matter.

We still continue to process the online orders but deliveries might be delayed due to the restrictive movements, as even essential services might be working with a skeletal workforce.
In addition, due to a surge in online sales during this CMCO, we would greatly appreciate if you could whatsapp or DM us to check on a stock's status before placing your order.
Urgent orders will not be entertained.
FAQ
1. General Information
BookaliciousMy.easy.co is an online bookstore that allows you to browse, search, as well as buy books online.
2. Product and Services
Locating a book
Please compute the book title or author or ISBN or keyword at the search box and then press the 'search' button.

Price difference between the online store and the physical bookstores
There is price difference

Book/item received incorrect or damaged
Please note we only allow refund for incorrect or defective book/item(s) delivered. However, the policy requires that the incorrect or damaged book be returned to the following address within 7 days from the date of receipt of the book.

Please send your return item(s) to:
BOOKALICIOUS SDN BHD
Lot G22 Ground Floor
The Summit USJ Mall
47600 Subang Jaya
Selangor Darul Ehsan
Phone: 012-2952290

Titles not listed in the online store
Please whatsapp 012-2952290 for enquiries on special orders.
3. Ordering
Placing an order
Step 1: Select the books/items of your choice,
Step 2: Click on the "Add to Cart" icon to continue shopping
Step 3: Key in your email and password. If you are a new customer, fill in details by clicking "Create Account" link. Alternatively, you can use your Facebook Login
Step 4: Check the details of the item(s) you have ordered at your Order Summary,
Step 5: Key in your shipping preferences and delivery address, and click Place Order Now
Step 6: The delivery charges will be shown. Please Re-check your Order Summary. Note: Once confirmed, your order cannot be cancelled/amended.
Step 7: We only accept bank transfer, credit card, GrabPay, TnGPay and Boost as mode of payment. Our bank details is stated at the Payment Details section. Click Place Order Now
Step 8: To verify the payment, please key-in the pertinent details and upload your payment acknowledgement or bank-in slip as proof of payment.
Order confirmation
An e-mail will be sent to you to confirm your order. Also, an Order ID will be given to you, which you can use to check your order status.

Changes to your order
We don't allow amendment to your order. Your order is non-refundable and unchangeable once your order is confirmed.

Order status
We will update you the shipment details via email that encompasses the courier provider, tracking reference and a tracking link once we have posted the item(s).
4. Delivery and Collection
Postal charges are calculated based on weight, dimensions and destination.
If product is in-stock, delivery is within

3 to 14 business days

.
If due to any unforeseen reasons that any product(s) in a Transaction is not-in-stock, we will be in contact with the customer should the whole order be cancelled, whether the customer accepts partial delivery or replace the product(s) that is unavailable.
In the event that the item(s) or parcel is undelivered and/or unclaimed by the customer from Courier Company and item(s) / parcel is returned to Bookalicious Sdn Bhd, we will cancel and refund the order. Customer will have to re-submit a fresh new order. Re-delivery request shall NOT be entertained.
Free Shipping within Malaysia is available for orders above a

minimum purchase amount of RM210

.

Orders will be shipped on business days only. Please note business days exclude public holidays and weekends.
5. Returns and Refunds (FOR ONLINE PURCHASES ONLY)
Return based on "change of mind" is not accepted by any means.
We will accept returns from customers for purchases sent back and received by us within 7 days of receipt of the shipment ONLY on these following conditions:
Incorrect or defective item(s) delivered; and
The items returned to us is in its original condition.
We will extend a full refund for the price of any item that fulfills the above requirements. We regret that shipping cost for your purchase will only be refunded if the return had been due to an oversight on our part.
Please send your return item(s) to:
BOOKALICIOUS SDN BHD
Lot G22 Ground Floor
The Summit USJ Mall
47600 Subang Jaya
Selangor Darul Ehsan
Phone: 012-2952290
In the event that the item(s) or parcel is undelivered and/or unclaimed by the customer from our courier partners and item(s)/ parcel is returned to Bookalicious Sdn Bhd, we will cancel and refund the order. Re-delivery request shall NOT be entertained. A fresh new order has to be re-submitted.
Should you have any problems or inquiries regarding our Return Policy, please feel free to whatsapp us at 012-2952290
IMPORTANT: Please WS or DM stock status before placing your order.