Product Description
Twenty curses, old and new, from bestselling fantasy authors such as Neil Gaiman, Christina Henry, M.R. Carey and Charlie Jane Anders.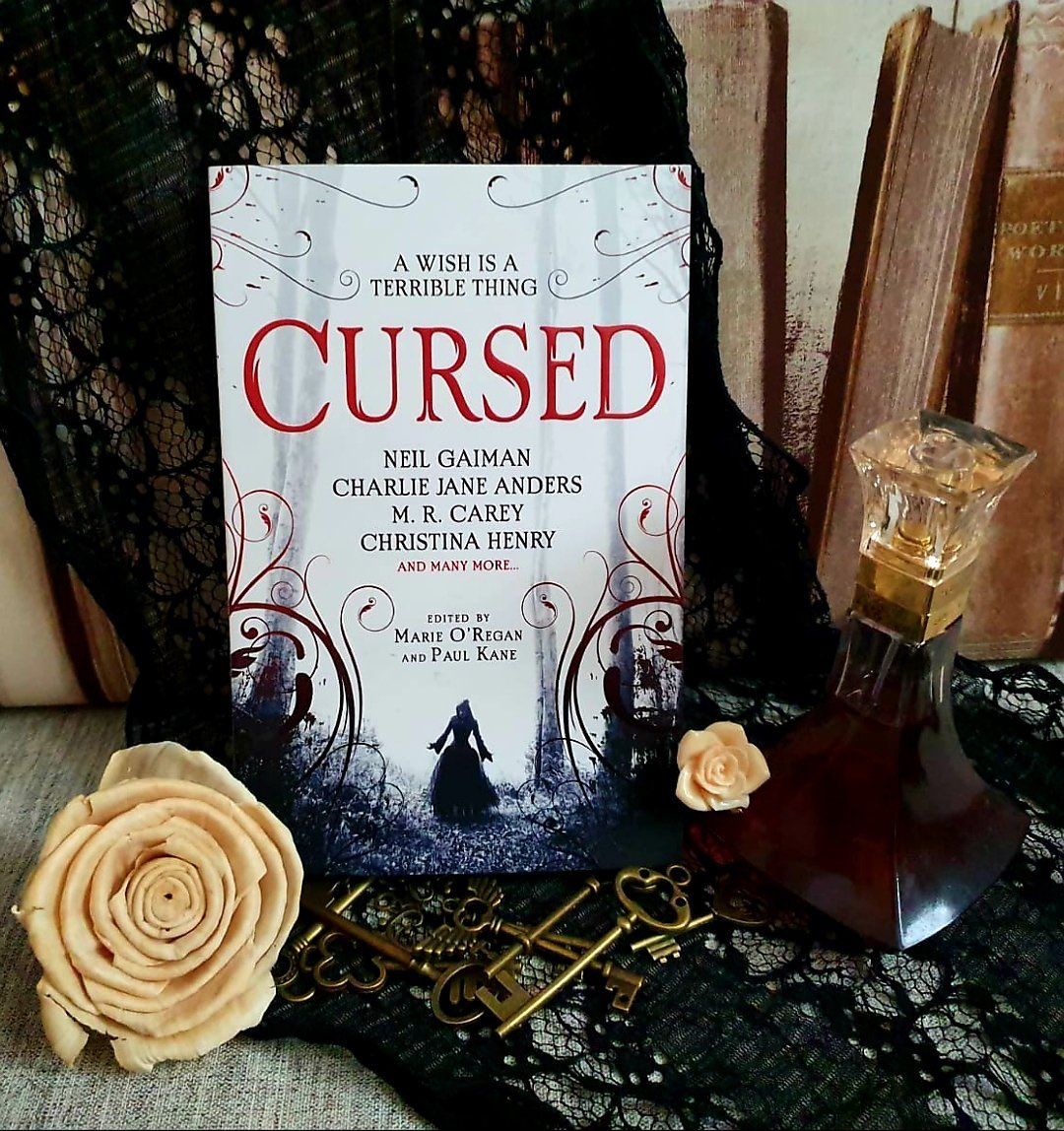 via Paul Kane
ALL THE BETTER TO READ YOU WITH
It's a prick of blood, the bite of an apple, the evil eye, a wedding ring or a pair of red shoes. Curses come in all shapes and sizes, and they can happen to anyone, not just those of us with unpopular stepparents...
Here you'll find unique twists on curses, from fairy tale classics to brand-new hexes of the modern world - expect new monsters and mythologies as well as twists on well-loved fables. Stories to shock and stories of warning, stories of monsters and stories of magic.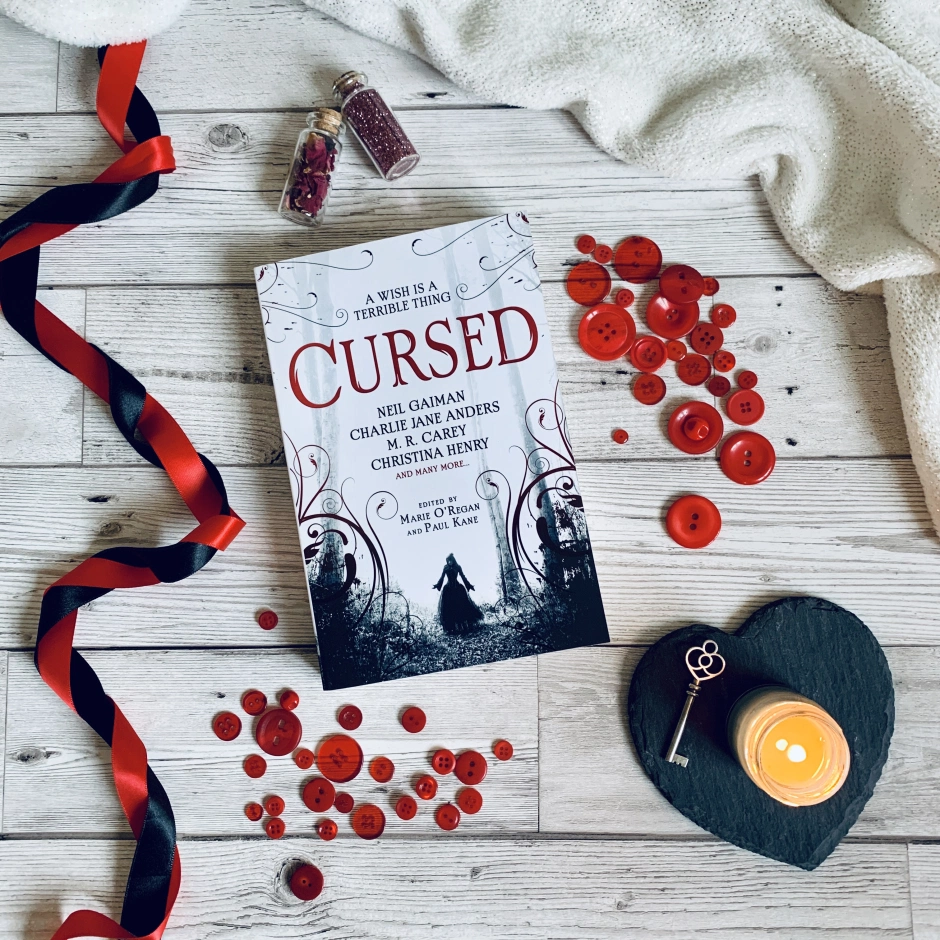 via Mummy Is Reading
TWENTY TIMELESS FOLKTALES, NEW AND OLD
NEIL GAIMAN
JANE YOLEN
KAREN JOY FOWLER
M.R. CAREY
CHRISTINA HENRY
CHRISTOPHER GOLDEN
TIM LEBBON
MICHAEL MARSHALL SMITH
CHARLIE JANE ANDERS
JEN WILLIAMS
CATRIONA WARD
JAMES BROGDEN
MAURA McHUGH
ANGELA SLATTER
LILLITH SAINTCROW
CHRISTOPHER FOWLER
ALISON LITTLEWOOD
MARGO LANAGAN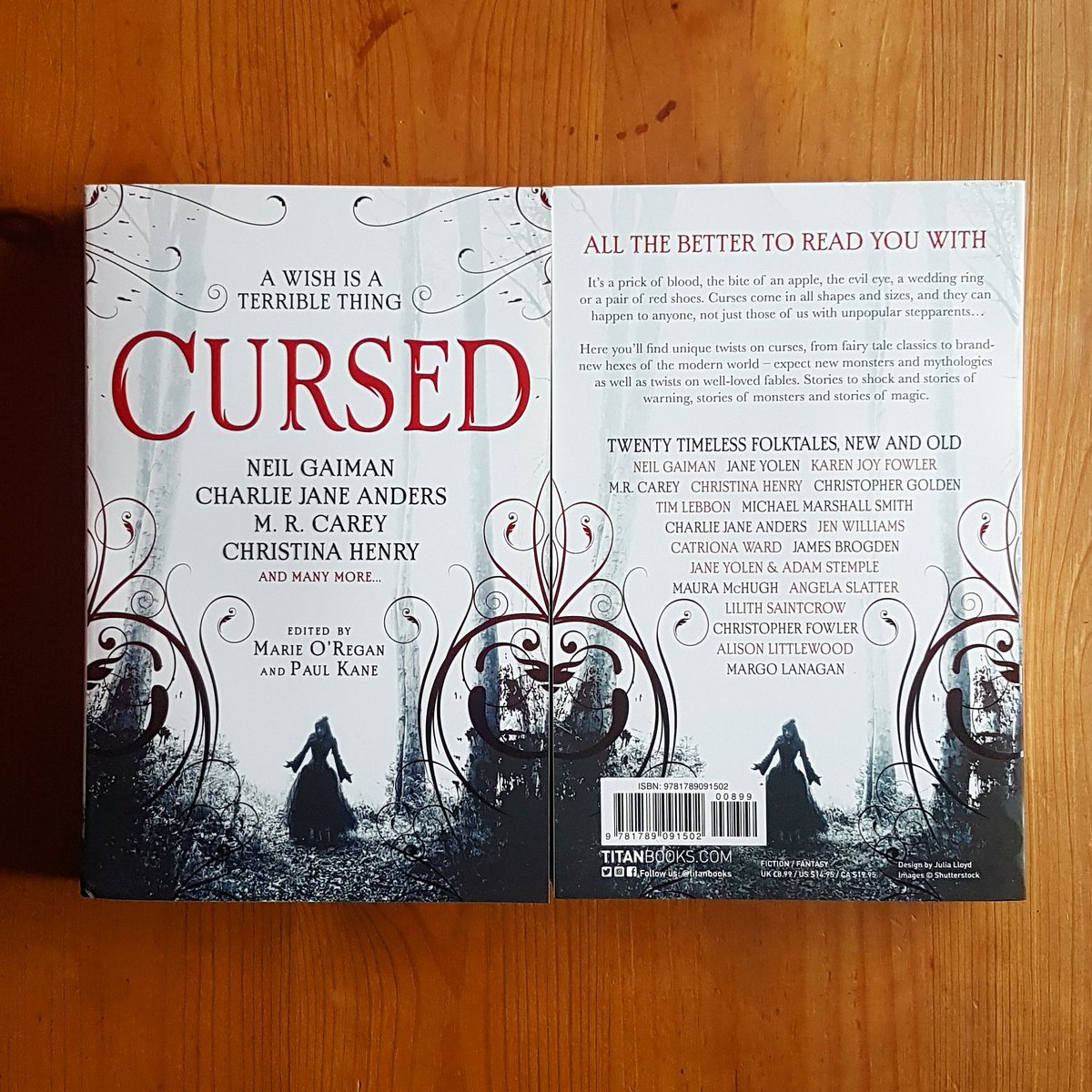 Reviews



"This anthology should satisfy most fantasy readers and is well worth a look." - Booklist
"Spellbinding ... These stories are by turns eerie, grotesque, and delightful... Readers won't have to be Brothers Grimm fans to appreciate this dark mélange." - Publishers Weekly
"Skin-crawling, tooth-grinding scary and sensuous... an excellent collection whose unforgettable, spooky images invoke the magic of daily life. " - Foreword Magazine
"A fine collection" - New York Journal of Books
"Tales that get us to think about what we wish for.... for those who seek to cultivate still the child within." - San Francisco Book Review 4-star review
"a magical, mythical, mystical collection that should appeal to fans of dark fables and traditional folk horror" - Den of Geek
"Some might shock you, some might make you laugh, but they will all impress you with their originality. This is a great collection of stories." -SciFiMoviePage - 4 star review
"A worthy addition to the twisted fairy tales genre" - The Frumious Consortium
"[These] stories read quickly, but pack a real punch, landing in that sweet spot of short fiction that is often strived for but can be hard to land" - Looking Glass Reads
"CURSED is a masterfully edited book from a list of highly talented authors that delivers on its promise of evil curses, dark fairy tale retellings, and twists that are sure to give you goosebumps." 4* - The Writerly Way
"Perfect for the current state of the world. You'll get sucked into these wonderful stories and want so much more!" 5* - mall3tg1rl
"Like watching a amazing story teller tell a story...so much to love about this anthology" 5 - Misadvertures of a Reader
"A great collection" 4* - SciFi Movie Page
"Beautiful, twisted, and refreshing takes on classic stories (with a few brand new fairytales thrown in the mix, too)" 4* - Howling Libraries
"a masterpiece in its editorial storytelling" - Her Campus
"Enchanting, spellbinding, gruesome and funny but seldom dull we give Cursed a 666/666."
Horror Hot House
"Incredibly high quality, delicious and moreish,"
Set the Tape
"A fine collection of tales by some of the best names in fantasy... A high level of quality and some really interesting spins on the theme."
Runalong the Shelves Review
"Like a voice in the woods tempting your childhood self to step off the path and roam in the darkness for a little while."
Istoria Lit Review
"An incredible collection. A must have for any fantasy fan."
An Average Life Review
"So much to love about this anthology 5*"
The Misadventures of a Reader
"There's something to delight every fantasy / fairytale / horror fan."
The Book Lover's Boudoir
"A great collection of work from some great authors... has something for everyone."
Where There's Ink There's Paper
"This collection of twists on folk and fairytales is an absolute joy to read... Cursed is a brilliant collection... and one I can't recommend enough!"
Pythia Reads Review
"This book is packed with great tales, and some amazing authors."
Readers Enjoy Authors' Dreams
"A wonderful collection of stories."
Lucy's Novel Purpose
"For anyone who loves childhood fairy tales, or even horror stories, this is definitely one to give a try." --
Angel Wings and Petticoats

Product Details


Paperback : 384 pages
ISBN-10 : 1789091500
ISBN-13 : 978-1789091502
Product Dimensions : 13 x 2.41 x 20.29 cm
Publisher : Titan Books (UK); Anthology Edition (3 Mar. 2020)
Language: : English
Customer reviews:
4.6 out of 5 stars 103 ratings


About the Author
Marie O'Regan is a British Fantasy Award-nominated writer and editor of horror and dark fantasy fiction. She is the author of four collections, Mirror Mere, Bury Them Deep, In Times of Want and Other Stories and The Last Ghost and Other Stories, and her anthologies include Hellbound Hearts, The Mammoth Book of Body Horror, Carnivale: Dark Tales From the Fairground, The Mammoth Book of Ghost Stories by Women, Phantoms, Exit Wounds and Wonderland. She is Co-Chair of the UK chapter of the Horror Writers' Association and lives in Derbyshire, UK. She tweets @Marie_O_Regan
Paul Kane is the award-winning and bestselling author/editor of over 90 books, including the Arrowhead trilogy (gathered together in the sellout Hooded Man omnibus, revolving around a post-apocalyptic version of Robin Hood), The Butterfly Man and Other Stories, Sherlock Holmes and the Servants of Hell, Before, Arcana and Pain Cages (an Amazon #1 bestseller). He is a respected anthologist, editing books such as Beyond Rue Morgue, The Mammoth Book of Body Horror, Hellbound Hearts and Exit Wounds. His website can be found at www.shadow-writer.co.uk and he tweets @PaulKaneShadow
Best Sellers
Red Hot Reads
The perfect choice for new & noteworthy releases
Hot Authors (FICTION)
Bookseller's Note
Please note our books are brand new and supplied directly from the publishers.
They are not publisher's returns, remainders or sourced from bookfairs
We do run out of stocks for some titles while every effort has been made to ensure stock is available for all the titles. Hence, we would greatly appreciate if you could Whatsapp or DM us to check on a stock's status before placing your order
Store and online prices may vary due to currency fluctuations.
Pre-orders may be subjected to publisher's or shipping delay
For titles not available, please Whatsapp your order to +6012-2952290
Delivery during CMCO
Due to the aftermath from Covid-19 crisis, all our overseas shipments (that includes a lot of customer orders) have been suspended until further notice. We seek your patience and understanding in this matter.

We still continue to process the online orders but deliveries might be delayed due to the restrictive movements, as even essential services might be working with a skeletal workforce.
In addition, due to a surge in online sales during this CMCO, we would greatly appreciate if you could whatsapp or DM us to check on a stock's status before placing your order.
Urgent orders will not be entertained.
FAQ
1. General Information
BookaliciousMy.easy.co is an online bookstore that allows you to browse, search, as well as buy books online.
2. Product and Services
Locating a book
Please compute the book title or author or ISBN or keyword at the search box and then press the 'search' button.

Price difference between the online store and the physical bookstores
There is price difference

Book/item received incorrect or damaged
Please note we only allow refund for incorrect or defective book/item(s) delivered. However, the policy requires that the incorrect or damaged book be returned to the following address within 7 days from the date of receipt of the book.

Please send your return item(s) to:
BOOKALICIOUS SDN BHD
Lot G22 Ground Floor
The Summit USJ Mall
47600 Subang Jaya
Selangor Darul Ehsan
Phone: 012-2952290

Titles not listed in the online store
Please whatsapp 012-2952290 for enquiries on special orders.
3. Ordering
Placing an order
Step 1: Select the books/items of your choice,
Step 2: Click on the "Add to Cart" icon to continue shopping
Step 3: Key in your email and password. If you are a new customer, fill in details by clicking "Create Account" link. Alternatively, you can use your Facebook Login
Step 4: Check the details of the item(s) you have ordered at your Order Summary,
Step 5: Key in your shipping preferences and delivery address, and click Place Order Now
Step 6: The delivery charges will be shown. Please Re-check your Order Summary. Note: Once confirmed, your order cannot be cancelled/amended.
Step 7: We only accept bank transfer, credit card, GrabPay, TnGPay and Boost as mode of payment. Our bank details is stated at the Payment Details section. Click Place Order Now
Step 8: To verify the payment, please key-in the pertinent details and upload your payment acknowledgement or bank-in slip as proof of payment.
Order confirmation
An e-mail will be sent to you to confirm your order. Also, an Order ID will be given to you, which you can use to check your order status.

Changes to your order
We don't allow amendment to your order. Your order is non-refundable and unchangeable once your order is confirmed.

Order status
We will update you the shipment details via email that encompasses the courier provider, tracking reference and a tracking link once we have posted the item(s).
4. Delivery and Collection
Postal charges are calculated based on weight, dimensions and destination.
If product is in-stock, delivery is within

3 to 14 business days

.
If due to any unforeseen reasons that any product(s) in a Transaction is not-in-stock, we will be in contact with the customer should the whole order be cancelled, whether the customer accepts partial delivery or replace the product(s) that is unavailable.
In the event that the item(s) or parcel is undelivered and/or unclaimed by the customer from Courier Company and item(s) / parcel is returned to Bookalicious Sdn Bhd, we will cancel and refund the order. Customer will have to re-submit a fresh new order. Re-delivery request shall NOT be entertained.
Free Shipping within Malaysia is available for orders above a

minimum purchase amount of RM210

.

Orders will be shipped on business days only. Please note business days exclude public holidays and weekends.
5. Returns and Refunds (FOR ONLINE PURCHASES ONLY)
Return based on "change of mind" is not accepted by any means.
We will accept returns from customers for purchases sent back and received by us within 7 days of receipt of the shipment ONLY on these following conditions:
Incorrect or defective item(s) delivered; and
The items returned to us is in its original condition.
We will extend a full refund for the price of any item that fulfills the above requirements. We regret that shipping cost for your purchase will only be refunded if the return had been due to an oversight on our part.
Please send your return item(s) to:
BOOKALICIOUS SDN BHD
Lot G22 Ground Floor
The Summit USJ Mall
47600 Subang Jaya
Selangor Darul Ehsan
Phone: 012-2952290
In the event that the item(s) or parcel is undelivered and/or unclaimed by the customer from our courier partners and item(s)/ parcel is returned to Bookalicious Sdn Bhd, we will cancel and refund the order. Re-delivery request shall NOT be entertained. A fresh new order has to be re-submitted.
Should you have any problems or inquiries regarding our Return Policy, please feel free to whatsapp us at 012-2952290
IMPORTANT: Please WS or DM stock status before placing your order.