Product Description
Eighteen-year-old Eliza Mirk is the anonymous creator of the wildly popular webcomic Monstrous Sea, but when a new boy at school tempts her to live a life offline, everything she's worked for begins to crumble.
Rainbow Rowell's Fangirl meets Noelle Stevenson's Nimona in this acclaimed novel about art, fandom, and finding the courage to be yourself. "A must-have."—School Library Journal
In the real world, Eliza Mirk is shy, weird, and friendless. Online, Eliza is LadyConstellation, anonymous creator of a popular webcomic called Monstrous Sea. With millions of followers and fans throughout the world, Eliza's persona is popular. Eliza can't imagine enjoying the real world as much as she loves her digital community.
Then Wallace Warland transfers to her school and Eliza begins to wonder if a life offline might be worthwhile. But when Eliza's secret is accidentally shared with the world, everything she's built—her story, her relationship with Wallace, and even her sanity—begins to fall apart.
With pages from Eliza's webcomic, as well as screenshots from Eliza's online forums, this uniquely formatted book will appeal to fans of Noelle Stevenson's Nimona and Rainbow Rowell's Fangirl. The paperback edition includes bonus material and never-before-seen art from the author.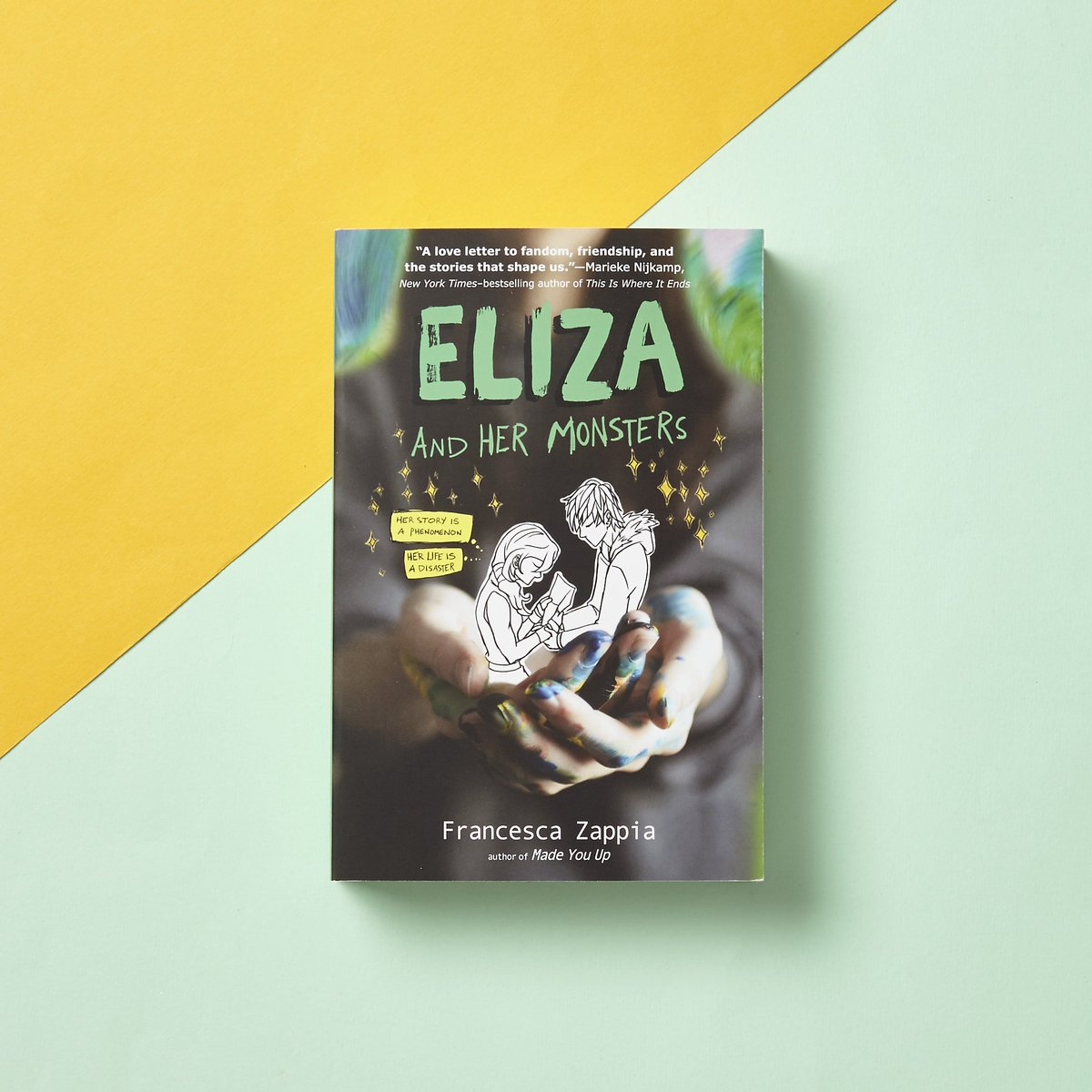 Review
"A love letter to fandom, friendship, and the stories that shape us, Eliza and Her Monsters is absolutely magical." (Marieke Nijkamp, New York Times bestselling author of This Is Where It Ends)

★ "Creator of an astonishingly successful webcomic...Eliza finds her voice. A wrenching depiction of depression and anxiety, respectful to fandom, online-only friendship, and the benefits and dangers of internet fame." (Kirkus Reviews (starred review))

★ "In her sophomore novel, Zappia gracefully examines Eliza's complicated struggle with anxiety, depression...peppered with detailed illustrations from Eliza's webcomic, drawn by Zappia herself. A fervent celebration of online fandom." (Booklist (starred review))

★ "Told in a series of letters, instant messages, comics, and prose, this book focuses on relationships and identity. ...will resonate with teens who write, create art, and love fandom. ...A must-have for all YA collections, especially where geek culture is celebrated." (School Library Journal (starred review))

"We've seen variants on this premise before, but Zappia uses it to focus on introversion and isolations, panic disorders, suicidal ideation, and a preferable online existence that offers more control...Readers involved in fandoms and those who wish to understand and think about their reach are the audience for this." (Bulletin of the Center for Children's Books)

"Zappia punctuates prose sections with Monstrous Sea artwork and online chats...she pointedly delves into the way fandoms can smother the creators they live. ...a compelling read on the labyrinths of imagination and the simple pleasures of ordinary life." (Shelf Awareness)
Product details
Paperback: 432 pages
Publisher: Greenwillow Books; Reprint edition (May 7, 2019)
Language: English
ISBN-10: 0062290142
ISBN-13: 978-0062290144
Product Dimensions: 1.2 x 5.3 x 8 inches
Shipping Weight: 15.5 ounces
About the Author
Francesca Zappia lives in central Indiana. When she is not writing, she's drawing her characters, reading, or playing video games. She is also the author of Made You Up and Eliza Mirk's favorite, The Children of Hypnos, a biweekly serial novel posted on Tumblr and Wattpad.
www.francescazappia.com
Best Sellers
Red Hot Reads
The perfect choice for new & noteworthy releases
Hot Authors (FICTION)
Bookseller's Note
Please note our books are brand new and supplied directly from the publishers.
They are not publisher's returns, remainders or sourced from bookfairs
We do run out of stocks for some titles while every effort has been made to ensure stock is available for all the titles. Hence, we would greatly appreciate if you could Whatsapp or DM us to check on a stock's status before placing your order
Store and online prices may vary due to currency fluctuations.
Pre-orders may be subjected to publisher's or shipping delay
For titles not available, please Whatsapp your order to +6012-2952290
Delivery during CMCO
Due to the aftermath from Covid-19 crisis, all our overseas shipments (that includes a lot of customer orders) have been suspended until further notice. We seek your patience and understanding in this matter.

We still continue to process the online orders but deliveries might be delayed due to the restrictive movements, as even essential services might be working with a skeletal workforce.
In addition, due to a surge in online sales during this CMCO, we would greatly appreciate if you could whatsapp or DM us to check on a stock's status before placing your order.
Urgent orders will not be entertained.
FAQ
1. General Information
BookaliciousMy.easy.co is an online bookstore that allows you to browse, search, as well as buy books online.
2. Product and Services
Locating a book
Please compute the book title or author or ISBN or keyword at the search box and then press the 'search' button.

Price difference between the online store and the physical bookstores
There is price difference

Book/item received incorrect or damaged
Please note we only allow refund for incorrect or defective book/item(s) delivered. However, the policy requires that the incorrect or damaged book be returned to the following address within 7 days from the date of receipt of the book.

Please send your return item(s) to:
BOOKALICIOUS SDN BHD
Lot G22 Ground Floor
The Summit USJ Mall
47600 Subang Jaya
Selangor Darul Ehsan
Phone: 012-2952290

Titles not listed in the online store
Please whatsapp 012-2952290 for enquiries on special orders.
3. Ordering
Placing an order
Step 1: Select the books/items of your choice,
Step 2: Click on the "Add to Cart" icon to continue shopping
Step 3: Key in your email and password. If you are a new customer, fill in details by clicking "Create Account" link. Alternatively, you can use your Facebook Login
Step 4: Check the details of the item(s) you have ordered at your Order Summary,
Step 5: Key in your shipping preferences and delivery address, and click Place Order Now
Step 6: The delivery charges will be shown. Please Re-check your Order Summary. Note: Once confirmed, your order cannot be cancelled/amended.
Step 7: We only accept bank transfer, credit card, GrabPay, TnGPay and Boost as mode of payment. Our bank details is stated at the Payment Details section. Click Place Order Now
Step 8: To verify the payment, please key-in the pertinent details and upload your payment acknowledgement or bank-in slip as proof of payment.
Order confirmation
An e-mail will be sent to you to confirm your order. Also, an Order ID will be given to you, which you can use to check your order status.

Changes to your order
We don't allow amendment to your order. Your order is non-refundable and unchangeable once your order is confirmed.

Order status
We will update you the shipment details via email that encompasses the courier provider, tracking reference and a tracking link once we have posted the item(s).
4. Delivery and Collection
Postal charges are calculated based on weight, dimensions and destination.
If product is in-stock, delivery is within

3 to 14 business days

.
If due to any unforeseen reasons that any product(s) in a Transaction is not-in-stock, we will be in contact with the customer should the whole order be cancelled, whether the customer accepts partial delivery or replace the product(s) that is unavailable.
In the event that the item(s) or parcel is undelivered and/or unclaimed by the customer from Courier Company and item(s) / parcel is returned to Bookalicious Sdn Bhd, we will cancel and refund the order. Customer will have to re-submit a fresh new order. Re-delivery request shall NOT be entertained.
Free Shipping within Malaysia is available for orders above a

minimum purchase amount of RM210

.

Orders will be shipped on business days only. Please note business days exclude public holidays and weekends.
5. Returns and Refunds (FOR ONLINE PURCHASES ONLY)
Return based on "change of mind" is not accepted by any means.
We will accept returns from customers for purchases sent back and received by us within 7 days of receipt of the shipment ONLY on these following conditions:
Incorrect or defective item(s) delivered; and
The items returned to us is in its original condition.
We will extend a full refund for the price of any item that fulfills the above requirements. We regret that shipping cost for your purchase will only be refunded if the return had been due to an oversight on our part.
Please send your return item(s) to:
BOOKALICIOUS SDN BHD
Lot G22 Ground Floor
The Summit USJ Mall
47600 Subang Jaya
Selangor Darul Ehsan
Phone: 012-2952290
In the event that the item(s) or parcel is undelivered and/or unclaimed by the customer from our courier partners and item(s)/ parcel is returned to Bookalicious Sdn Bhd, we will cancel and refund the order. Re-delivery request shall NOT be entertained. A fresh new order has to be re-submitted.
Should you have any problems or inquiries regarding our Return Policy, please feel free to whatsapp us at 012-2952290
IMPORTANT: Please WS or DM stock status before placing your order.