Product Description
The thrilling history of the Targaryens comes to life in this masterly work by the author of A Song of Ice and Fire, the inspiration for HBO's Game of Thrones. With all the fire and fury fans have come to expect from internationally bestselling author George R. R. Martin, this is the first volume of the definitive two-part history of the Targaryens in Westeros.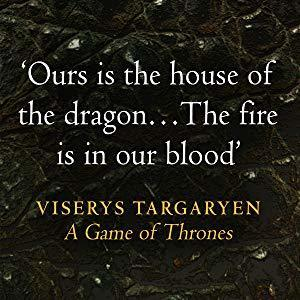 Centuries before the events of A Game of Thrones, House Targaryen—the only family of dragonlords to survive the Doom of Valyria—took up residence on Dragonstone. Fire & Blood begins their tale with the legendary Aegon the Conqueror, creator of the Iron Throne, and goes on to recount the generations of Targaryens who fought to hold that iconic seat, all the way up to the civil war that nearly tore their dynasty apart.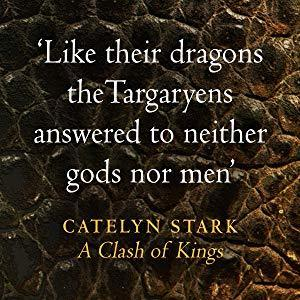 What really happened during the Dance of the Dragons? Why was it so deadly to visit Valyria after the Doom? What were Maegor the Cruel's worst crimes? What was it like in Westeros when dragons ruled the skies? These are but a few of the questions answered in this essential chronicle, as related by a learned maester of the Citadel and featuring more than eighty all-new black-and-white illustrations by artist Doug Wheatley. Readers have glimpsed small parts of this narrative in such volumes as The World of Ice & Fire, but now, for the first time, the full tapestry of Targaryen history is revealed.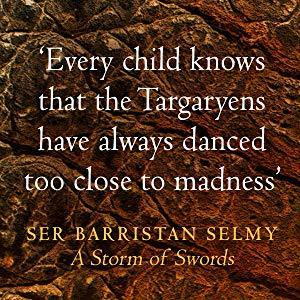 With all the scope and grandeur of Gibbon's The History of the Decline and Fall of the Roman Empire,Fire & Blood is the ultimate game of thrones, giving readers a whole new appreciation for the dynamic, often bloody, and always fascinating history of Westeros.
Product details
Series: A Song of Ice and Fire
Paperback: 752 pages
Publisher: Bantam (May 5, 2020)
Language: English
ISBN-10: 1524796301
ISBN-13: 978-1524796303
Product Dimensions: 6.1 x 1.5 x 9.1 inches
Customer Reviews: 4.2 out of 5 stars 2,863 customer ratings
Review
"I love it so much. Fire & Blood is Martin Unbound . . . and I couldn't put it down. . . . There's an addictive quality to the prose that's outright gossipy. . . . The obvious comparison here is J.R.R. Tolkien's The Silmarillion. . . . Writing centuries after the events he's describing, the Gyldayn voice complicates this game of thrones with a clash of perspectives and a storm of debatable facts. . . . Heavy stuff, but Fire & Blood flies."—Entertainment Weekly

"A masterpiece of popular historical fiction." —The Sunday Times

"The saga is a rich and dark one, full of both the title's promised elements. . . . It's hard not to thrill to the descriptions of dragons engaging in airborne combat, or the dilemma of whether defeated rulers should 'bend the knee,' 'take the black' and join the Night's Watch, or simply meet an inventive and horrible end."—The Guardian

"Lean and efficient and slyly seductive and instructive . . . The text is filled with such a wealth of incident and so many colorful characters." —Locus

"The overall narrative of the book is wonderfully fluid. . . . Fire & Blood was a great surprise to me. I found myself becoming deeply emotionally invested in the Targaryens, thrilling when they achieved great victories and lamenting when they succumbed to their more idiotic desires. (And they have a lot of idiotic desires.) This book feels like A Song of Ice and Fire. And you know how I know? Because I want the next book right away." —Tordotcom

"[There are] treasures hidden in this new Targaryen history."—Vanity Fair

"The world of ice and fire only gets more fascinating the more we learn about it."—Mashable

"Martin is still a powerfully gifted, inventive writer. . . . [Fire & Blood] has hundreds of fascinating anecdotes, ranging from the cruel fate of a jester named Tom Turnip to a dragon that, tellingly, refuses to venture beyond the Wall. . . . Fire & Blood is a lavish object, with charts, family trees, and stunning illustrations by comic book artist Doug Wheatley. . . . In this sense it fits into a venerable tradition, from J.R.R. Tolkien in his Silmarillion to Diana Gabaldon in her companion to the Outlander series."—USA Today

"[Fire & Blood] explores the dragon-fueled secrets upon which the current saga is built."—Hollywood Reporter

"Martin has done it again. . . . [Fire & Blood is] a beautiful weaving of the wars, marriages, deaths, dragons, and politics that shape the world Martin has created, leaving the reader feeling like this is a true history rather than a piece of fantasy. This is a masterpiece of world-building. . . . Beyond Martin's legions of fans, anyone with a taste for richly, even obsessively detailed historical fiction or fantasy about royalty will enjoy this extraordinary work."—Booklist (starred review)
About the Author
George R. R. Martin is the #1 New York Times bestselling author of many novels, including those of the acclaimed series A Song of Ice and Fire—A Game of Thrones, A Clash of Kings, A Storm of Swords, A Feast for Crows, and A Dance with Dragons—as well as Tuf Voyaging, Fevre Dream, The Armageddon Rag, Dying of the Light, Windhaven (with Lisa Tuttle), and Dreamsongs Volumes I and II. He is also the creator of The Lands of Ice and Fire, a collection of maps featuring original artwork from illustrator and cartographer Jonathan Roberts, and The World of Ice & Fire, with Elio M. García, Jr., and Linda Antonsson. As a writer-producer, he has worked on The Twilight Zone, Beauty and the Beast, and various feature films and pilots that were never made. He lives with the lovely Parris in Santa Fe, New Mexico.

Doug Wheatley is a comic book artist, concept designer, and illustrator who has worked on such properties and characters as Star Wars, Aliens, Superman, The Incredible Hulk, and Conan the Barbarian, to name just a few. Wheatley was the artist on the comic book adaptation of the film Star Wars: Episode III: Revenge of the Sith and contributed illustrations to The World of Ice & Fire.
Best Sellers
Red Hot Reads
The perfect choice for new & noteworthy releases
Hot Authors (FICTION)
Bookseller's Note
Please note our books are brand new and supplied directly from the publishers.
They are not publisher's returns, remainders or sourced from bookfairs
We do run out of stocks for some titles while every effort has been made to ensure stock is available for all the titles. Hence, we would greatly appreciate if you could Whatsapp or DM us to check on a stock's status before placing your order
Store and online prices may vary due to currency fluctuations.
Pre-orders may be subjected to publisher's or shipping delay
For titles not available, please Whatsapp your order to +6012-2952290
Delivery during CMCO
Due to the aftermath from Covid-19 crisis, all our overseas shipments (that includes a lot of customer orders) have been suspended until further notice. We seek your patience and understanding in this matter.

We still continue to process the online orders but deliveries might be delayed due to the restrictive movements, as even essential services might be working with a skeletal workforce.
In addition, due to a surge in online sales during this CMCO, we would greatly appreciate if you could whatsapp or DM us to check on a stock's status before placing your order.
Urgent orders will not be entertained.
FAQ
1. General Information
BookaliciousMy.easy.co is an online bookstore that allows you to browse, search, as well as buy books online.
2. Product and Services
Locating a book
Please compute the book title or author or ISBN or keyword at the search box and then press the 'search' button.

Price difference between the online store and the physical bookstores
There is price difference

Book/item received incorrect or damaged
Please note we only allow refund for incorrect or defective book/item(s) delivered. However, the policy requires that the incorrect or damaged book be returned to the following address within 7 days from the date of receipt of the book.

Please send your return item(s) to:
BOOKALICIOUS SDN BHD
Lot G22 Ground Floor
The Summit USJ Mall
47600 Subang Jaya
Selangor Darul Ehsan
Phone: 012-2952290

Titles not listed in the online store
Please whatsapp 012-2952290 for enquiries on special orders.
3. Ordering
Placing an order
Step 1: Select the books/items of your choice,
Step 2: Click on the "Add to Cart" icon to continue shopping
Step 3: Key in your email and password. If you are a new customer, fill in details by clicking "Create Account" link. Alternatively, you can use your Facebook Login
Step 4: Check the details of the item(s) you have ordered at your Order Summary,
Step 5: Key in your shipping preferences and delivery address, and click Place Order Now
Step 6: The delivery charges will be shown. Please Re-check your Order Summary. Note: Once confirmed, your order cannot be cancelled/amended.
Step 7: We only accept bank transfer, credit card, GrabPay, TnGPay and Boost as mode of payment. Our bank details is stated at the Payment Details section. Click Place Order Now
Step 8: To verify the payment, please key-in the pertinent details and upload your payment acknowledgement or bank-in slip as proof of payment.
Order confirmation
An e-mail will be sent to you to confirm your order. Also, an Order ID will be given to you, which you can use to check your order status.

Changes to your order
We don't allow amendment to your order. Your order is non-refundable and unchangeable once your order is confirmed.

Order status
We will update you the shipment details via email that encompasses the courier provider, tracking reference and a tracking link once we have posted the item(s).
4. Delivery and Collection
Postal charges are calculated based on weight, dimensions and destination.
If product is in-stock, delivery is within

3 to 14 business days

.
If due to any unforeseen reasons that any product(s) in a Transaction is not-in-stock, we will be in contact with the customer should the whole order be cancelled, whether the customer accepts partial delivery or replace the product(s) that is unavailable.
In the event that the item(s) or parcel is undelivered and/or unclaimed by the customer from Courier Company and item(s) / parcel is returned to Bookalicious Sdn Bhd, we will cancel and refund the order. Customer will have to re-submit a fresh new order. Re-delivery request shall NOT be entertained.
Free Shipping within Malaysia is available for orders above a

minimum purchase amount of RM210

.

Orders will be shipped on business days only. Please note business days exclude public holidays and weekends.
5. Returns and Refunds (FOR ONLINE PURCHASES ONLY)
Return based on "change of mind" is not accepted by any means.
We will accept returns from customers for purchases sent back and received by us within 7 days of receipt of the shipment ONLY on these following conditions:
Incorrect or defective item(s) delivered; and
The items returned to us is in its original condition.
We will extend a full refund for the price of any item that fulfills the above requirements. We regret that shipping cost for your purchase will only be refunded if the return had been due to an oversight on our part.
Please send your return item(s) to:
BOOKALICIOUS SDN BHD
Lot G22 Ground Floor
The Summit USJ Mall
47600 Subang Jaya
Selangor Darul Ehsan
Phone: 012-2952290
In the event that the item(s) or parcel is undelivered and/or unclaimed by the customer from our courier partners and item(s)/ parcel is returned to Bookalicious Sdn Bhd, we will cancel and refund the order. Re-delivery request shall NOT be entertained. A fresh new order has to be re-submitted.
Should you have any problems or inquiries regarding our Return Policy, please feel free to whatsapp us at 012-2952290
IMPORTANT: Please WS or DM stock status before placing your order.