(Save 50%) Girl, Woman, Other (WINNER OF THE BOOKER PRIZE 2019)
Product description

A love song to modern Britain and black womanhood
Teeming with life and crackling with energy - a love song to modern Britain and black womanhood
Girl, Woman, Other follows the lives and struggles of twelve very different characters. Mostly women, black and British, they tell the stories of their families, friends and lovers, across the country and through the years.
Joyfully polyphonic and vibrantly contemporary, this is a gloriously new kind of history, a novel of our times: celebratory, ever-dynamic and utterly irresistible.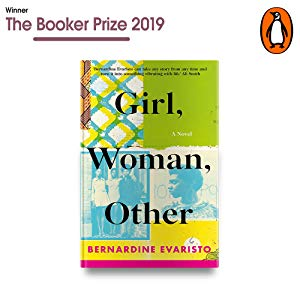 Review
Weaves through time and space with crackling originality (Vogue)

Exuberant, bursting at the seams in delightful ways... Evaristo continues to expand and enhance our literary canon. If you want to understand modern day Britain, this is the writer to read (New Statesman)


An exceptional book that unites poetry, social history, women's voices and beyond. Order it right now (Stylist)


Evaristo's prose hums with life as characters seem to step off the page fully formed. At turns funny and sad, tender and true, this book deserves to win awards (Red)
About the Author
Bernardine Evaristo is the Anglo-Nigerian award-winning author of seven books of fiction and verse fiction that explore aspects of the African diaspora: past, present, real, imagined. Her writing also spans short fiction, reviews, essays, drama and writing for BBC radio. She is Professor of Creative Writing at Brunel University London and Vice Chair of the Royal Society of Literature.
As a literary activist for inclusion, Bernardine Evaristo has founded several successful initiatives including Theatre of Black Women (1982-86), Spread the Word writer development agency (1995-present); The Complete Works mentoring scheme for poets of colour (2007-17) and the Brunel International African Poetry Prize (2012 - ongoing).
Product details
Format Hardback | 464 pages
Dimensions 162 x 240 x 41mm | 704g
Publication date 16 Jul 2019
Publisher Penguin Books Ltd
Imprint Hamish Hamilton Ltd
Publication City/Country London, United Kingdom
Language English
ISBN10 0241364906
ISBN13 9780241364901
Note:
For titles not available, please email your order or queries to bookalicious@hotmail.com or Whatsapp +6012-2952290
Please note we do run out of stocks for some titles while every effort has been made to ensure stock is available for all the titles.
Store and online prices may vary due to currency fluctuations.
Customer comments
| Author/Date | Rating | Comment |
| --- | --- | --- |