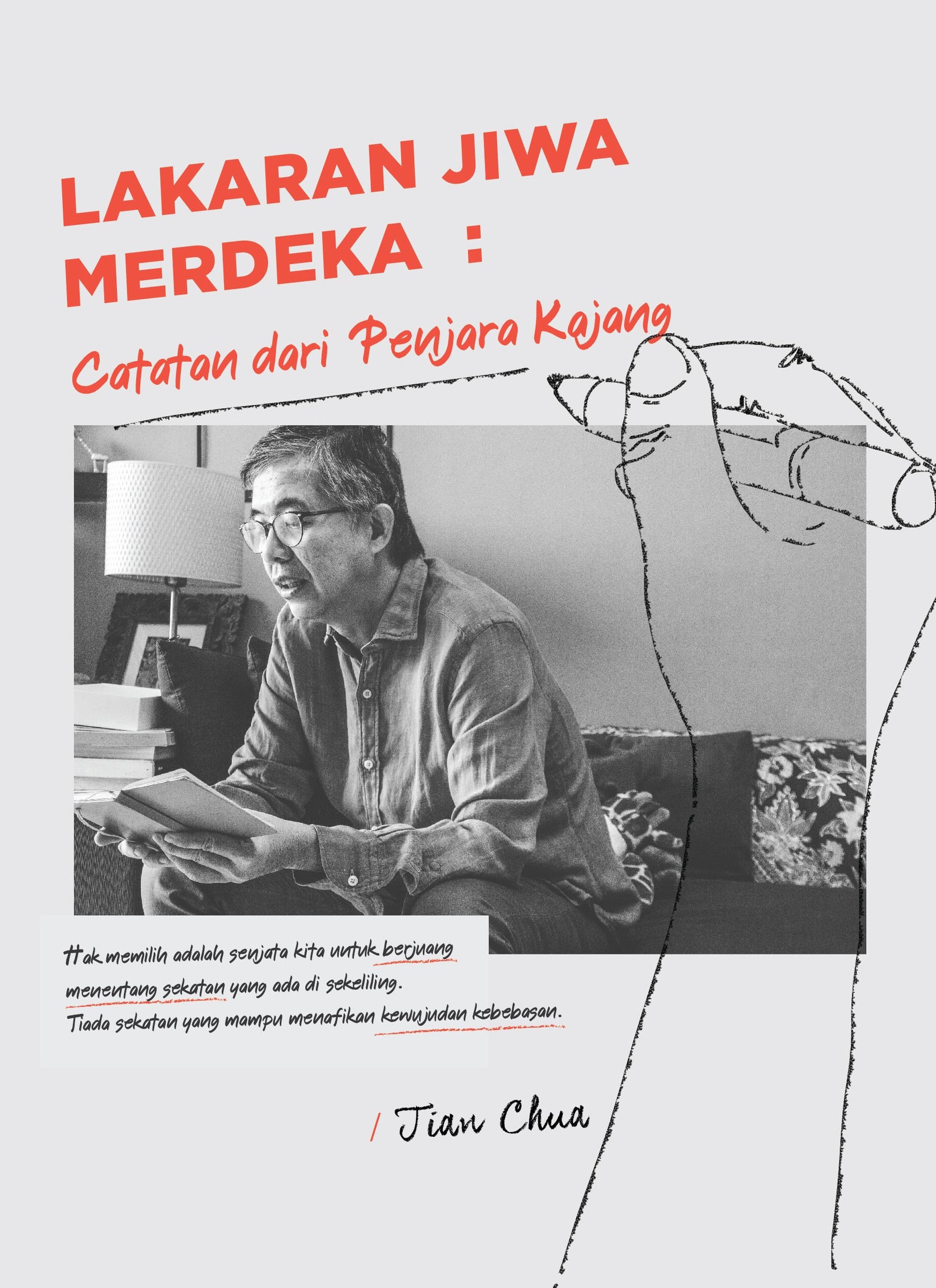 Lakaran Jiwa Merdeka: Catatan dari Penjara Kajang
Tian Chua, reformis yang memahat ingatan rakyat Malaysia dengan susuk tubuhnya yang kurus di depan trak meriam air berkimia pada zaman Reformasi. Naik turun mahkamah, keluar masuk lopak sudah menjadi sesuatu yang lumrah sepanjang tempoh dua dekad perjuangan politik Tian Chua.
Namun, di sebalik imej berani yang ditonjolkan, Tian Chua memiliki jiwa seni yang halus. Tian Chua menggilap semula bakatnya dengan menghasilkan karya seni di sebalik tirai besi. Melalui pengamatannya, Tian Chua berkongsi kisah-kisah dalam Penjara Kajang, malah menyelami falsafah di sebalik fenomena yang berlaku. Meskipun jasadnya terkurung, Tian Chua tetap mempertahankan kebebasan jiwanya- kebebasan untuk memilih yang benar dan mulia, dan kebebasan untuk menolak yang salah dan korup.
ISI KANDUNGAN
1. Membela Diri
22. Atasan
2. Nombor kod banduan
23. Niat murni
3. Jiran saya dan arca roti
24. Kucing
4. Kerunsingan seorang warden
25. Nama saya
5. Asingan
26. Kekeliruan
6. Pegawai penjara
27. Lebih kurang
7. Upacara "Muster"
28. Luar dugaan
8. Mencatat debgan contengan
29. Kekecohan dalam penjara
9. Malaikat dalam penjara
30. Pengkat
10. Waktu Subuh
31. Hidup berdisiplin
11. Kedai Runcit dalam penjara
32. Mahkamah Kangroo*
12. Menulis
33. Interlock
13. Gayung
34. Buraq
14. Kemusykilan pegawai penjara
35. Orang kerja
15. Kebajikan dan Rasuah?
36. Antara jual beli
16. Berkaki ayam
37. Temu bual
17. Renungan
38. Makan
18. Apa kesalahan saya?
39. Keluar penjara
19. Kertas dan pensel yang menggerunkan
40. Selamat tinggal
20. Tidak suka politik
41. Pembebasan
21. Manifeto

42. Lampiran 1: Kronologi

43. Lampiran 2: Senarai Makanan Harian
Note:
For titles not available, please email your order or queries to bookalicious@hotmail.com or Whatsapp +6012-2952290
Please note we do run out of stocks for some titles while every effort has been made to ensure stock is available for all the titles.
Store and online prices may vary due to currency fluctuations.
Customer comments
| Author/Date | Rating | Comment |
| --- | --- | --- |