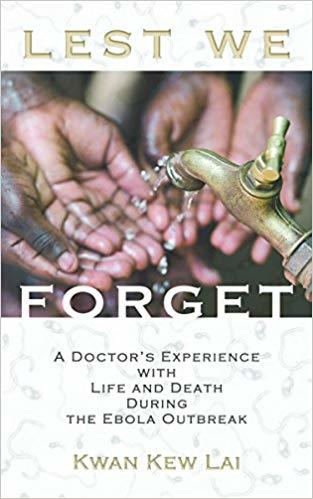 Lest We Forget: A Doctor's Experience with Life and Death During the Ebola Outbreak
When Ebola broke out in West Africa, Malaysian-born, Kwan Kew Lai knew she had to act. The mother of three and infectious disease specialist traveled to Liberia, the country with the highest death toll, where she documented her experience

In 2014 after fighting through yards of bureaucratic red tape, leaving her family, and putting her own health at risk in order to help suffering strangers, Kwan Kew Lai finally arrived in Africa to volunteer as an infectious disease specialist in the heart of the largest Ebola outbreak in history. What she found was not only blistering heat, inadequate working conditions, and deadly, unrelenting illness, but hope, resilience, and incredible courage.
Lest We Forget chronicles the harrowing and inspiring time spent serving on the front lines of the ongoing Ebola outbreak--the complicated personal protective equipment, the chlorine-scented air, the tropical heat, and the heartbreaking difficulties of treating patients she could not touch. Dr. Lai interweaves original diary entries to create a gripping narrative about life, death, and human relationships that will leave no reader unmoved.
This book exposes the raw brutality of Ebola, as well as the chaotic nature of the undersupplied and understaffed health infrastructure in the developing world. At once a memoir of triumphs and failures and a memorial, this book will ensure that the victims of Ebola and the fighters who sought to heal them will not be forgotten.
Note:
For titles not available, please email your order or queries to bookalicious@hotmail.com or Whatsapp +6012-2952290
Please note we do run out of stocks for some titles while every effort has been made to ensure stock is available for all the titles.
Store and online prices may vary due to currency fluctuations.
Customer comments
| Author/Date | Rating | Comment |
| --- | --- | --- |