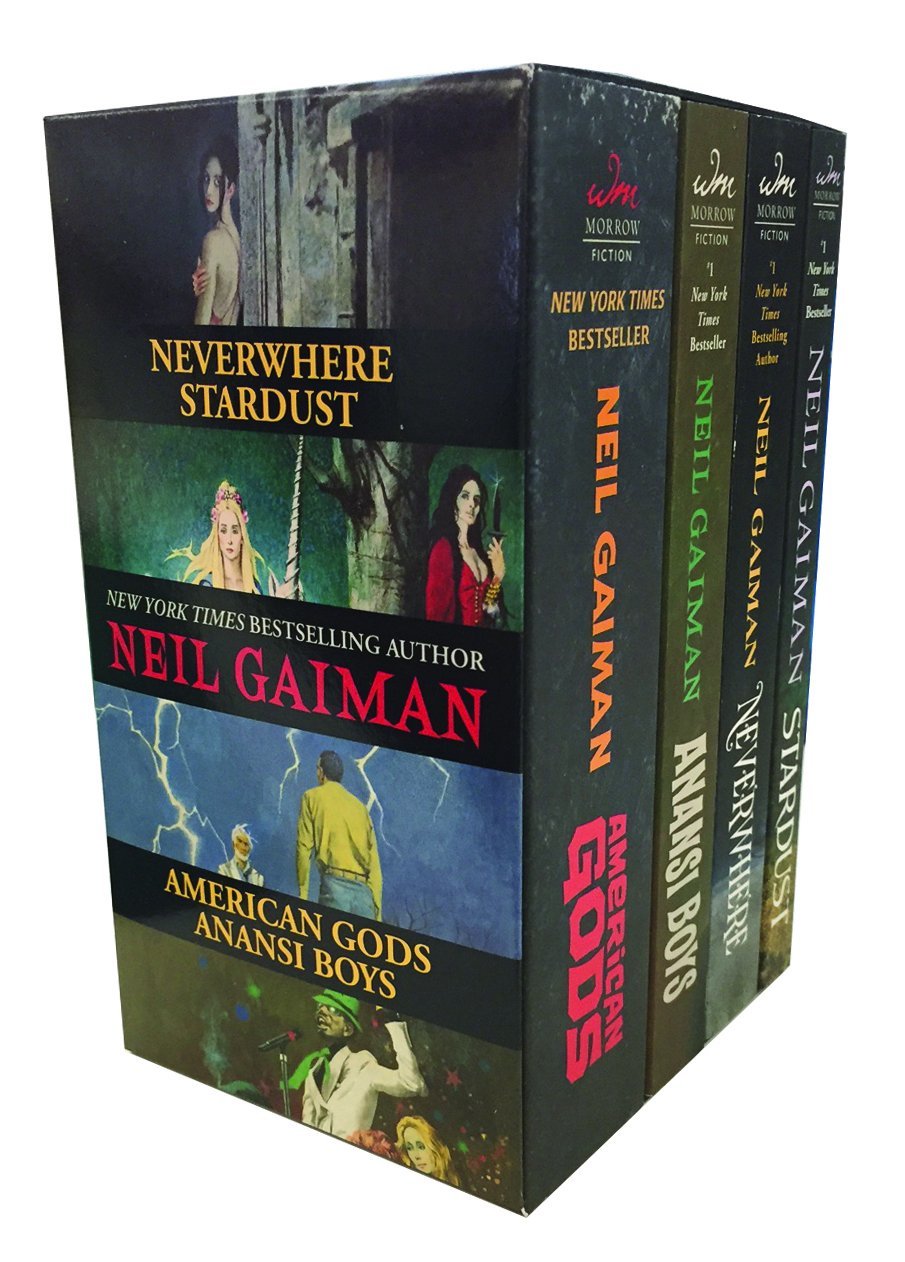 Neil Gaiman Mass Market Box Set
Editorial Reviews
In this exclusive boxed set, best selling, internationally acclaimed, award-winning author Neil Gaiman takes you on a journey from a secret realm below London to the enchanted lands of Fairie, from the cliffs before Creation to an America of gods old and new. With glorious full-color retro-style covers by renowned artist Robert McGinnis. BAM! exclusive.
Neil Gaiman Box Set includes the following titles:- Neverwhere, Stardust, Anansi Boys, and American Gods.
Neverwhere
Under the streets of London there's a world most people could never even dream of. A city of monsters and saints, murderers and angels, and pale girls in black velvet. Richard Mayhew is a young businessman who is about to find out more than he bargained for about this other London. A single act of kindness catapults him out of his safe and predictable life and into a world that is Read more at once eerily familiar and yet utterly bizarre.
Stardust
Life moves at a leisurely pace in the tiny town of Wall - named after the imposing stone barrier which separates the town from a grassy meadow. Here, young Tristran Thorn has lost his heart to the beautiful Victoria Forester and for the coveted prize of her hand, Tristran vows to retrieve a fallen star and deliver it to his belo ved.
Anansi Boys
Fat Charlie Nancy is not actually fat. He was fat once but he is definitely not fat now. No, right now Fat Charlie Nancy is angry, confused and more than a little scared - right now his life is spinning out of control, and it is all his dad's fault.
American Gods: TV Tie-In
If you are to survive, you must believe.Shadow Moon has served his time. But hours before his release from prison, his beloved wife is killed in a freak accident. Dazed, he boards a plane home where he meets the enigmatic Mr Wednesday, who professes both to know Shadow and to be king of America.
About the Author
Neil Gaiman is the #1 New York Times bestselling author of more than twenty books, including Norse Mythology, Neverwhere, and The Graveyard Book. Among his numerous literary awards are the Newbery and Carnegie medals, and the Hugo, Nebula, World Fantasy, and Will Eisner awards. Originally from England, he now lives in America.
Note:
For titles not available, please email your order or queries to bookalicious@hotmail.com or Whatsapp +6012-2952290
Please note we do run out of stocks for some titles while every effort has been made to ensure stock is available for all the titles.
Store and online prices may vary due to currency fluctuations.
Customer comments
| Author/Date | Rating | Comment |
| --- | --- | --- |