Product Description
From the New York Times bestselling author of Jonathan Strange & Mr Norrell, an intoxicating, hypnotic new novel set in a dreamlike alternative reality.

Piranesi's house is no ordinary building: its rooms are infinite, its corridors endless, its walls are lined with thousands upon thousands of statues, each one different from all the others. Within the labyrinth of halls an ocean is imprisoned; waves thunder up staircases, rooms are flooded in an instant. But Piranesi is not afraid; he understands the tides as he understands the pattern of the labyrinth itself. He lives to explore the house.

There is one other person in the house--a man called The Other, who visits Piranesi twice a week and asks for help with research into A Great and Secret Knowledge. But as Piranesi explores, evidence emerges of another person, and a terrible truth begins to unravel, revealing a world beyond the one Piranesi has always known.

For readers of Neil Gaiman's The Ocean at the End of the Lane and fans of Madeline Miller's Circe, Piranesi introduces an astonishing new world, an infinite labyrinth, full of startling images and surreal beauty, haunted by the tides and the clouds.

Reviews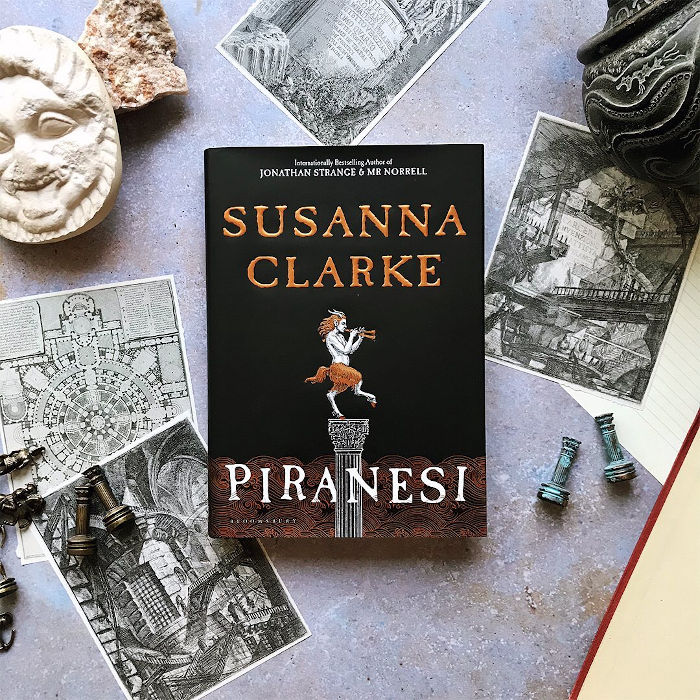 "A novel that feels like a surreal meditation on life in quarantine." --The New Yorker
"Piranesi astonished me. It is a miraculous and luminous feat of storytelling, at once a gripping mystery, an adventure through a brilliant new fantasy world, and a deep meditation on the human condition: feeling lost, and being found. I already want to be back in its haunting and beautiful halls!" --Madeline Miller, New York Times Bestselling Author of CIRCE
"Unforgettable - surely one of the most original works of fiction this season. It drops you into a mind-bending fantasy world, a vast labyrinth with infinite rooms and seas that sweep into halls and up staircases with the tides. ... It's a hypnotic tale that you can devour in a day (and probably will; it's that hard to put down)." --AARP
"Piranesi is a high-quality page-turner-even the most leisurely reader will probably finish it off in a day-but its chief pleasure is immersion in its strange and uncannily attractive setting. . . Establishing that sense of totality-and the feeling of peacefulness that accompanies it-is Ms. Clarke's standout feat." --Sam Sacks, Wall Street Journal
"Could Piranesi match [the hype]? I'm delighted to say it has, with Clarke's singular wit and imagination still intact in a far more compressed yet still captivating tale you'll want to delve into again right after you read its sublime last sentence." --The Boston Globe
"Piranesi is a gorgeous, spellbinding mystery that gently unravels page by page. Precisely the sort of book that I love wordlessly handing to someone so they can have the pleasure of uncovering its secrets for themselves. This book is a treasure, washed up upon a forgotten shore, waiting to be discovered." --Erin Morgenstern, NYT bestselling author of THE STARLESS SEA and THE NIGHT CIRCUS
"A short and beautiful novel that reads like a poem, not in its use of language (which is very accessible) but rather in its cumulative effect of expressing an emotion and state of being that is inexpressible. It's a strange and lovely read." --Buzzfeed
"What a world Susanna Clarke conjures into being, what a tick-tock-tick-tock of reveals, what a pure protagonist, what a morally-squalid supporting cast, what beauty, tension and restraint, and what a pitch-perfect ending. Piranesi is an exquisite puzzle-box far, far bigger on the inside than it is on the outside." --David Mitchell, New York Times bestselling author of CLOUD ATLAS
"Destined to become a work of classic fantasy." --Ron Charles, CBS Sunday Morning Book Report
"Piranesi Will Wreck You: The novel establishes Susanna Clarke as one of our greatest living writers." --New York Magazine
"Infinitely clever... none of [Clarke's] enchantment has worn off - it's evolved. . . to abide in these pages is to find oneself happily detained in awe." --The Washington Post
Enthralling [and] transcendent... the sweetness, the innocence of Piranesi's love for this world is devastating to read. Clarke's writing is clear, sharp -- she can cleave your heart in a few short words. . . The mystery of Piranesi unwinds at a tantalizing yet lightening-like pace -- it's hard not to rush ahead, even when each sentence, each revelation makes you want to linger. - NPR.org
The long-awaited followup to Jonathan Strange is even more magically immersive. . . Here is a protagonist with no guile, no greed, no envy, no cruelty, and yet still intriguing. - The Los Angeles Times
"Susanna Clarke's first novel in sixteen years is a wonder." --Slate
Susanna Clarke's astonishing Piranesi proves she's one of the greatest novelists writing today. - Vox
Piranesi hit my mind and soul like a thunderbolt. It is a work of deep power. - EW.com
"Susanna Clarke has fashioned her own myth anew and enlarged the world again." --The New Republic
"Almost impossible to put down... lavishly descriptive, charming, heartbreaking and imbued with a magic that will be familiar to Clarke's devoted readers, Piranesi will satisfy lovers of Jonathan Strange and win her many new fans." --Bookpage, starred review
"Readers who accompany [Piranesi] as he learns to understand himself will see magic returning to our world. Weird and haunting and excellent." --Kirkus Reviews, Starred Review
"Clarke wraps a twisty mystery inside a metaphysical fantasy in her extraordinary new novel . . . Sure to be recognized as one of the year's most inventive." --Publishers Weekly, Starred Review
"As questions multiply and suspense mounts in this spellbinding, occult puzzle of a fable, one begins to wonder if perhaps the reverence, kindness, and gratitude practiced by Clarke's enchanting and resilient hero aren't all the wisdom one truly needs." --Booklist, Starred Review
"Clarke creates an immersive world that readers can almost believe exists. This is a solid crossover pick for readers whose appreciation of magical fantasy leans toward V.E. Schwab or Erin Morgenstern." --Library Journal, Starred Review
"Clarke's imagination is prodigious, her pacing is masterly and she knows how to employ dry humor in the service of majesty." --Gregory Maguire, The New York Times
"Nobody writes about magic the way Clarke does . . . She writes about magic as if she's actually worked it." --Lev Grossman, TIME Magazine
Product Details
ISBN-10 : 1526622424
Hardcover : 272 pages
ISBN-13 : 978-1526622426
Product Dimensions : 22.3 x 2.8 x 16.1 cm
Publisher : Bloomsbury Publishing; 01 Edition (15 Sept. 2020)
Language: : English
Customer reviews:
4.6 out of 5 stars 954 ratings
By the Same Author
About the Author
Susanna Mary Clarke (born 1 November 1959) is an English author best known for her debut novel Jonathan Strange & Mr Norrell (2004), a Hugo Award-winning alternative history. Clarke began Jonathan Strange in 1993 and worked on it during her spare time. For the next decade, she published short stories from the Strange universe, but it was not until 2003 that Bloomsbury bought her manuscript and began work on its publication. The novel became a best-seller.

Two years later, she published a collection of her short stories, The Ladies of Grace Adieu and Other Stories (2006). Both Clarke's novel and her short stories are set in a magical England and written in a pastiche of the styles of 19th-century writers such as Jane Austen and Charles Dickens. While Strange focuses on the relationship of two men, Jonathan Strange and Gilbert Norrell, the stories in Ladies focus on the power women gain through magic.
Best Sellers
Red Hot Reads
The perfect choice for new & noteworthy releases
Hot Authors (FICTION)
Bookseller's Note
Please note our books are brand new and supplied directly from the publishers.
They are not publisher's returns, remainders or sourced from bookfairs
We do run out of stocks for some titles while every effort has been made to ensure stock is available for all the titles. Hence, we would greatly appreciate if you could Whatsapp or DM us to check on a stock's status before placing your order
Store and online prices may vary due to currency fluctuations.
Pre-orders may be subjected to publisher's or shipping delay
For titles not available, please Whatsapp your order to +6012-2952290
Delivery during CMCO
Due to the aftermath from Covid-19 crisis, all our overseas shipments (that includes a lot of customer orders) have been suspended until further notice. We seek your patience and understanding in this matter.

We still continue to process the online orders but deliveries might be delayed due to the restrictive movements, as even essential services might be working with a skeletal workforce.
In addition, due to a surge in online sales during this CMCO, we would greatly appreciate if you could whatsapp or DM us to check on a stock's status before placing your order.
Urgent orders will not be entertained.
FAQ
1. General Information
BookaliciousMy.easy.co is an online bookstore that allows you to browse, search, as well as buy books online.
2. Product and Services
Locating a book
Please compute the book title or author or ISBN or keyword at the search box and then press the 'search' button.

Price difference between the online store and the physical bookstores
There is price difference

Book/item received incorrect or damaged
Please note we only allow refund for incorrect or defective book/item(s) delivered. However, the policy requires that the incorrect or damaged book be returned to the following address within 7 days from the date of receipt of the book.

Please send your return item(s) to:
BOOKALICIOUS SDN BHD
Lot G22 Ground Floor
The Summit USJ Mall
47600 Subang Jaya
Selangor Darul Ehsan
Phone: 012-2952290

Titles not listed in the online store
Please whatsapp 012-2952290 for enquiries on special orders.
3. Ordering
Placing an order
Step 1: Select the books/items of your choice,
Step 2: Click on the "Add to Cart" icon to continue shopping
Step 3: Key in your email and password. If you are a new customer, fill in details by clicking "Create Account" link. Alternatively, you can use your Facebook Login
Step 4: Check the details of the item(s) you have ordered at your Order Summary,
Step 5: Key in your shipping preferences and delivery address, and click Place Order Now
Step 6: The delivery charges will be shown. Please Re-check your Order Summary. Note: Once confirmed, your order cannot be cancelled/amended.
Step 7: We only accept bank transfer, credit card, GrabPay, TnGPay and Boost as mode of payment. Our bank details is stated at the Payment Details section. Click Place Order Now
Step 8: To verify the payment, please key-in the pertinent details and upload your payment acknowledgement or bank-in slip as proof of payment.
Order confirmation
An e-mail will be sent to you to confirm your order. Also, an Order ID will be given to you, which you can use to check your order status.

Changes to your order
We don't allow amendment to your order. Your order is non-refundable and unchangeable once your order is confirmed.

Order status
We will update you the shipment details via email that encompasses the courier provider, tracking reference and a tracking link once we have posted the item(s).
4. Delivery and Collection
Postal charges are calculated based on weight, dimensions and destination.
If product is in-stock, delivery is within

3 to 14 business days

.
If due to any unforeseen reasons that any product(s) in a Transaction is not-in-stock, we will be in contact with the customer should the whole order be cancelled, whether the customer accepts partial delivery or replace the product(s) that is unavailable.
In the event that the item(s) or parcel is undelivered and/or unclaimed by the customer from Courier Company and item(s) / parcel is returned to Bookalicious Sdn Bhd, we will cancel and refund the order. Customer will have to re-submit a fresh new order. Re-delivery request shall NOT be entertained.
Free Shipping within Malaysia is available for orders above a

minimum purchase amount of RM210

.

Orders will be shipped on business days only. Please note business days exclude public holidays and weekends.
5. Returns and Refunds (FOR ONLINE PURCHASES ONLY)
Return based on "change of mind" is not accepted by any means.
We will accept returns from customers for purchases sent back and received by us within 7 days of receipt of the shipment ONLY on these following conditions:
Incorrect or defective item(s) delivered; and
The items returned to us is in its original condition.
We will extend a full refund for the price of any item that fulfills the above requirements. We regret that shipping cost for your purchase will only be refunded if the return had been due to an oversight on our part.
Please send your return item(s) to:
BOOKALICIOUS SDN BHD
Lot G22 Ground Floor
The Summit USJ Mall
47600 Subang Jaya
Selangor Darul Ehsan
Phone: 012-2952290
In the event that the item(s) or parcel is undelivered and/or unclaimed by the customer from our courier partners and item(s)/ parcel is returned to Bookalicious Sdn Bhd, we will cancel and refund the order. Re-delivery request shall NOT be entertained. A fresh new order has to be re-submitted.
Should you have any problems or inquiries regarding our Return Policy, please feel free to whatsapp us at 012-2952290
IMPORTANT: Please WS or DM stock status before placing your order.