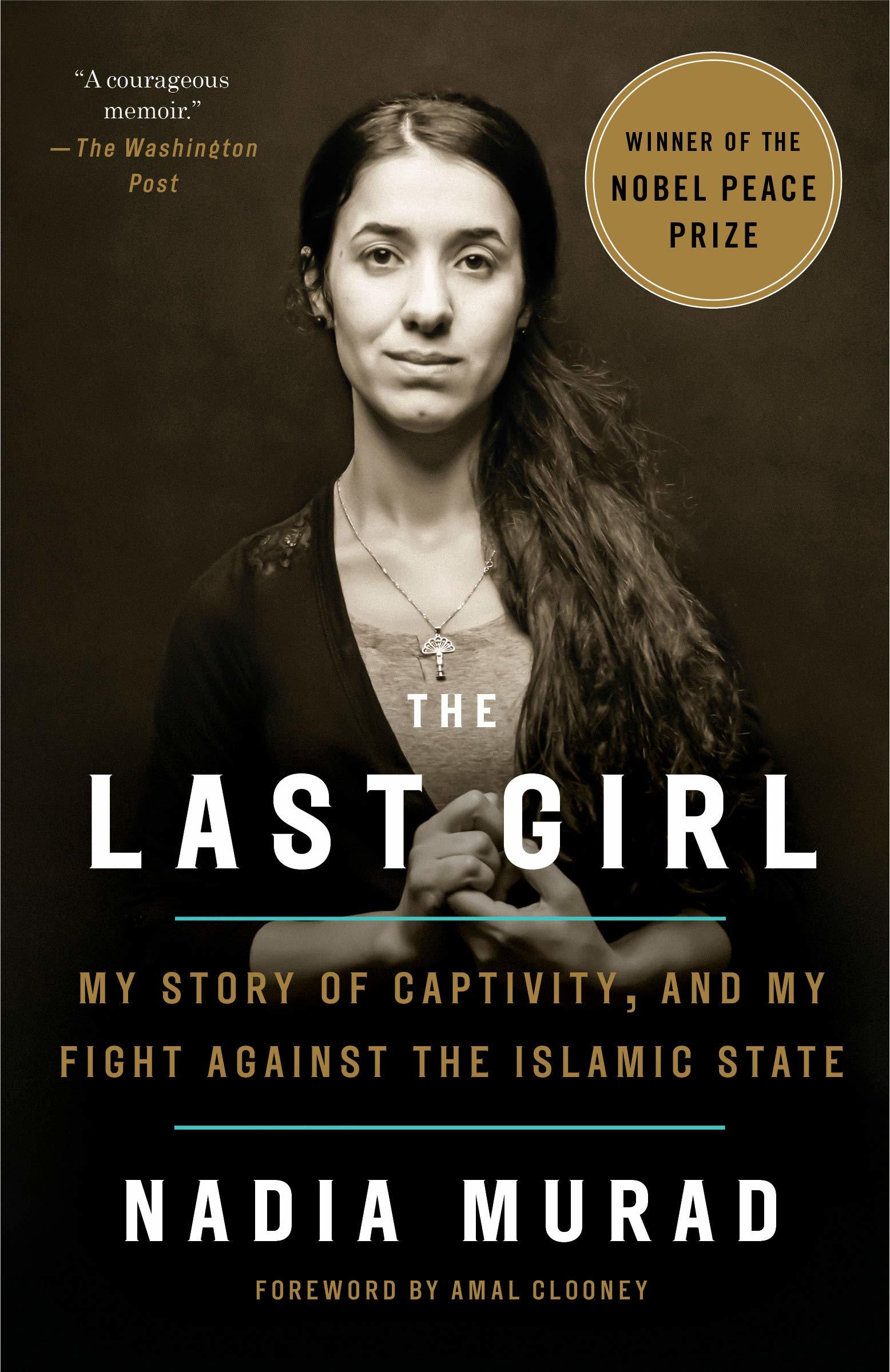 The Last Girl: My Story of Captivity, and My Fight Against the Islamic State
WINNER OF THE NOBEL PEACE PRIZE

In this intimate memoir of survival, a former captive of the Islamic State tells her harrowing and ultimately inspiring story.


Nadia Murad was born and raised in Kocho, a small village of farmers and shepherds in northern Iraq. A member of the Yazidi community, she and her brothers and sisters lived a quiet life. Nadia had dreams of becoming a history teacher or opening her own beauty salon.


On August 15th, 2014, when Nadia was just twenty-one years old, this life ended. Islamic State militants massacred the people of her village, executing men who refused to convert to Islam and women too old to become sex slaves. Six of Nadia's brothers were killed, and her mother soon after, their bodies swept into mass graves. Nadia was taken to Mosul and forced, along with thousands of other Yazidi girls, into the ISIS slave trade.


Nadia would be held captive by several militants and repeatedly raped and beaten. Finally, she managed a narrow escape through the streets of Mosul, finding shelter in the home of a Sunni Muslim family whose eldest son risked his life to smuggle her to safety.


Today, Nadia's story—as a witness to the Islamic State's brutality, a survivor of rape, a refugee, a Yazidi—has forced the world to pay attention to an ongoing genocide. It is a call to action, a testament to the human will to survive, and a love letter to a lost country, a fragile community, and a family torn apart by war.
A New York Times Editors' Choice

"This devastating memoir unflinchingly recounts Murad's experiences and questions the complicity of witnesses who acquiesced in the suffering of others." —The New Yorker

"Her book is sobering—and an inspiration." —People

"A harrowing memoir. . . . Intricate in historical context. . . . The Last Girl leaves readers with urgent, incendiary questions." —The New York Times Book Review

"Murad gives us a window on the atrocities that destroyed her family and nearly wiped out her vulnerable community. This is a courageous memoir that serves as an important step toward holding to account those who committed horrific crimes." —The Washington Post

"This is likely the most inspiring feminist memoir out this year." —Bustle

"Nadia Murad's courageous account is horrific and essential reading. . . . Anyone who wants to understand the so-called Islamic State should read The Last Girl." —The Economist

"Fascinating." —Vulture

"Surpassingly valuable. . . . With her new book, The Last Girl, Nadia Murad has assumed the stature of an Elie Wiesel for her people. . . . As much as it is an account of the Yazidi genocide, the book is also a loving ode to a way of life that has now been all but obliterated." —Jewish Journal

"A harrowing and brave book, a testament to human resilience." —The Progressive

"A devastating yet ultimately inspiring memoir that doubles as an urgent call to action." —Kirkus

"Brilliant and intense. . . . a clear-eyed account of ISIS's cruelty." —Publishers Weekly (starred review)

"Powerful. . . . A heartbreaking elegy to a lost community." —Booklist
Note:
For titles not available, please email your order or queries to bookalicious@hotmail.com or Whatsapp +6012-2952290
Please note we do run out of stocks for some titles while every effort has been made to ensure stock is available for all the titles.
Store and online prices may vary due to currency fluctuations.
Customer comments
| Author/Date | Rating | Comment |
| --- | --- | --- |