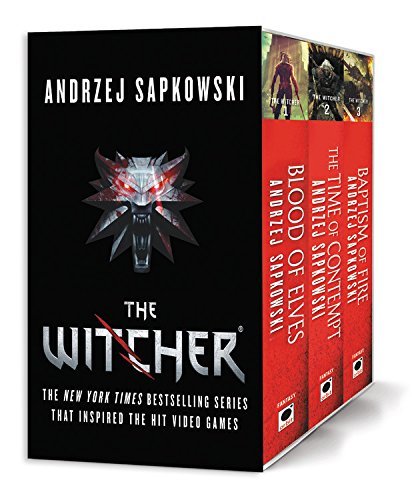 The Witcher Boxed Set (Paperback)
This special boxed set includes the first three novels in Andrzej Sapkowski's New York Timesbestselling epic fantasy saga -- the books that introduced the world to THE WITCHER and inspired the hit Witcher video games.

*Look out for Season of Storms in April 2018*


"The universe of Sapkowski's The Witcher is one of the most detailed and best-explored in modern fantasy." ---B&N


For over a century, humans, dwarves, gnomes, and elves have lived together in relative peace. But times have changed, the uneasy peace is over, and now the races are fighting once again. The only good elf, it seems, is a dead elf.

Geralt of Rivia, the cunning assassin known as The Witcher, has been waiting for the birth of a prophesied child. This child has the power to change the world - for good, or for evil.

As the threat of war hangs over the land and the child is hunted for her extraordinary powers, it will become Geralt's responsibility to protect them all - and the Witcher never accepts defeat.


In Blood of Elves, The Time of Contempt, and Baptism of Fire, Sapkowski brings a fresh new voice to fantasy fiction, creating something wholly dark and exciting in this world of fairy tales and witchers.
Note:
For titles not available, please email your order or queries to bookalicious@hotmail.com or Whatsapp +6012-2952290
Please note we do run out of stocks for some titles while every effort has been made to ensure stock is available for all the titles.
Store and online prices may vary due to currency fluctuations.
Customer comments
| Author/Date | Rating | Comment |
| --- | --- | --- |