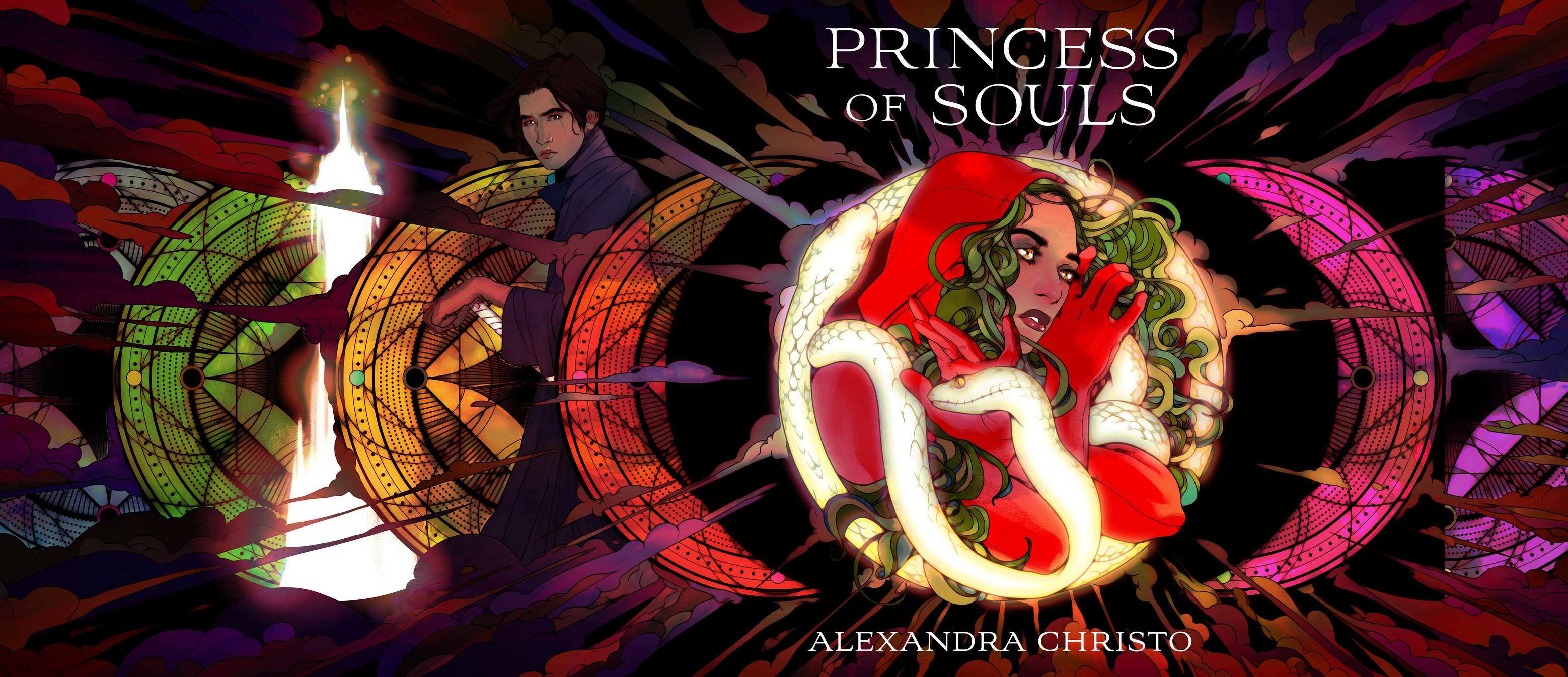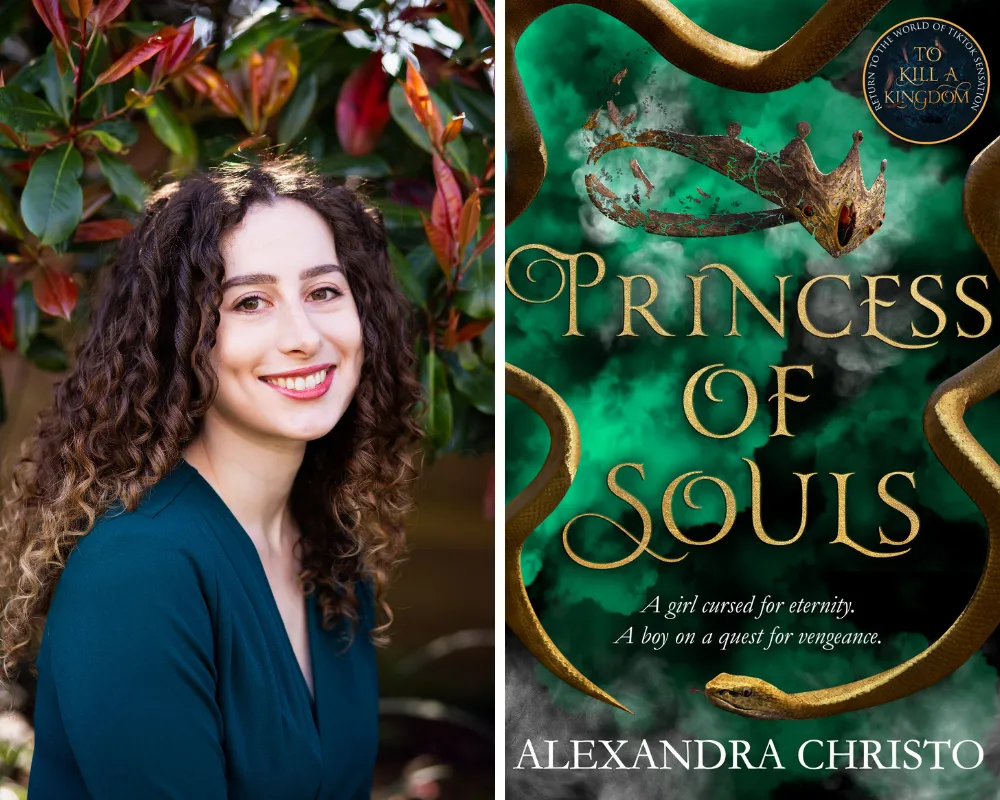 If you loved To Kill a Kingdom we have some EXCELLENT news for you! Alexandra Christo is returning to that very same universe in her brand new fantasy romance, Princess of Souls. This Rapunzel-inspired novel tells the story of a teen witch groomed to steal souls for an immortal king and the reckless, rebellious boy to whom her fate is tied. Princess of Souls is everything we've been waiting for, but if you need some extra incentive to pick this one up, be sure to check out this interview with the author!
What makes Selestra and Nox fierce?
Selestra has spent her life being told who she is—who she should be—but she's no longer willing to blindly follow the oaths of her ancestors and pretend to be someone she isn't. Especially if that means bowing to a King she knows will stop at nothing to gain ultimate power. Selestra has squashed down her magic for years and now she's ready to unleash it on those who'd try to hurt her and the people she loves!
As for Nox, he's willing to do whatever it takes to avenge his father's memory and ensure that nobody in the Six Isles ever has to suffer that same fate. Even if it means entering into a deadly bargain with someone who wants to steal his soul!
And together . . . well, together Selestra and Nox are ready to shatter curses and take on death itself.
If you could give Selestra and Nox one piece of advice, what would it be?
For Selestra, I'd tell her that her family's sins are not her own and that the bad choices she's made in the past don't need to determine her entire future. We are more than just the sum of our mistakes.
For Nox, I'd let him know that the weight of the world is a heavy burden to carry, and not something he ever needs to do it alone.
I'd also tell them both to stop being so stubborn and JUST KISS ALREADY. But, hey, maybe that's my own fault!
What's the strangest/most interesting thing you learned while researching Princess of Souls?
Princess of Souls is inspired by Rapunzel, and also by a lot of Greek myths, so I had to get my research hat on to be sure I did all the stories justice. You wouldn't believe how many versions of Rapunzel are out there and how hilarious some of them are.
In a lot of versions the reason Rapunzel was taken by the witch was to repay her father's debt for stealing . . . salad?! Seems like a minor overreaction. But in one version Rapunzel's name is actually Parsley, after the stolen salad. And actually the name Rapunzel itself is a type of lettuce. Who knew?!
But onto the funny . . . In one Italian version, the witch curses Rapunzel (aka Angiola) with a dog face and the prince literally says, "how can I take you home to my parents now? They would never allow me to marry a maiden with a dog's face." Such chivalry, huh? And they say romance is dead!
There's also this line in the Giambattista Basile version: here sprang up a wolf, who, without giving the ogress time to play any new trick, gobbled her up just as she was, in the shape of a jackass. I cannot tell you how much that made me laugh.
If you'd met Selestra and Nox as a teen, would you have been friends with them?
I would like to be friends with them, but I have a feeling that I'm just not willing to risk my life enough! Sorry, Six Isles, but I'll sit this battle with cursed immortals out!
Though Selestra and I would have lots of fun sneaking chocolate cake from under the King's nose. She could also teach me how to fence! And Nox could show me how to work a hot air balloon. Just as long as I'm not expected to fight in battles to the death, we'd have fun being snarky together.
What's your favorite part of being an author?
Getting to meet readers and see how much my books made an impact! It's the most fulfilling thing to know a story that only lived inside my mind for so long was able to break out into the world and make young readers smile! I've gone to a couple of signings where readers have handed me their annotated copies of my books, with all the moments they loved and their live commentary. They take center stage on my bookshelf! I flick through them whenever I need a pick-me-up.
What's the most challenging part of being an author?
Juggling the various different stories and deadlines! You're never just working on one book, but two or three or (if you're far more organized than me) even more. I now have a very color-coded calendar to keep track of what I should be working on and when! It's hard to resist the temptation of diving into a new idea when you're already on deadline for something else!
What 3 words would you use to describe Princess of Souls?
Fun. Chaotic. Swooooon. Failing that: Rapunzel. Goes. Rogue.
ABOUT THE BOOK
From the author of To Kill a Kingdom comes Princess of Souls, a Rapunzel-inspired YA fantasy romance about a teen witch groomed to steal souls for an immortal king and the reckless, rebellious boy to whom her fate is tied.
For sixteen years, Selestra has been trapped in her tower on the Floating Mountain, preparing to take her mother's place as the King's Witch, who foretells deaths in the Festival of Predictions. Outrunning your fate earns a wish and the chance to steal the King's immortality. But die and your soul is forfeit. And though thousands have tried, nobody has ever beaten death.
A soldier in the King's army, Nox is an unlikely candidate for the Festival, but, driven by revenge, he is determined to steal the King's immortality and kill the entirety of his court, starting with Selestra.
Yet when Selestra touches Nox in her very first prediction, their fates become entwined, and death seeks to take both their souls. Only by working together can they survive long enough to escape the dark fate and the immortal King that now hunts them.
---
Related products