Product Description
Laia is a slave. Elias is a soldier. Neither is free.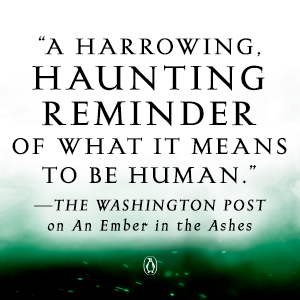 Under the Martial Empire, defiance is met with death. Those who do not vow their blood and bodies to the Emperor risk the execution of their loved ones and the destruction of all they hold dear.
It is in this brutal world, inspired by ancient Rome, that Laia lives with her grandparents and older brother. The family ekes out an existence in the Empire's impoverished backstreets. They do not challenge the Empire. They've seen what happens to those who do.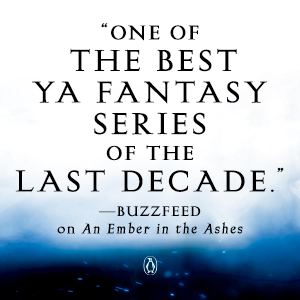 But when Laia's brother is arrested for treason, Laia is forced to make a decision. In exchange for help from rebels who promise to rescue her brother, she will risk her life to spy for them from within the Empire's greatest military academy.

There, Laia meets Elias, the school's finest soldier—and secretly, its most unwilling. Elias wants only to be free of the tyranny he's being trained to enforce. He and Laia will soon realize that their destinies are intertwined—and that their choices will change the fate of the Empire itself.

Reviews
Named one of the best books of the year by:
Amazon
Barnes & Noble
The Wall Street Journal
Buzzfeed
LA Weekly
Bustle
Paste Magazine
Indigo
Suspense Magazine
The New York Public Library
Popsugar
Hypable

***

"This novel is a harrowing, haunting reminder of what it means to be human—and how hope might be kindled in the midst of oppression and fear." —The Washington Post

"[An Ember in the Ashes] thrusts its readers into a world marred by violence and oppression, yet does so with simple prose that can offer moments of loveliness in its clarity. This complexity makes Ember a worthy novel—and one as brave as its characters." —The New York Times Book Review

"Sabaa Tahir spins a captivating, heart-pounding fantasy." —Us Weekly

"An Ember in the Ashes mixes The Hunger Games with Game of Thrones...and adds a dash of Romeo and Juliet." —The Hollywood Reporter

"Blew me away...This book is dark, complex, vivid, and romantic—expect to be completely transported." —MTV.com

"Fast-paced, well-structured and full of twists and turns, An Ember in the Ashes is an evocative debut that has left me invested in knowing what happens next." —NPR

"Once you get caught up in the story, it's addictive, and there's no way you can put it down before you figure out what happens to the characters you have fallen for over the course of the 400 some-odd pages. So I didn't." —Bustle

"One thing I can say for sure: this is a page-turner. There comes a moment when it's impossible to put it down. Sabaa Tahir is a strong writer, but most of all, she's a great storyteller." —The Huffington Post

"This epic fantasy set in the Martial Empire has it all: danger and violence, secrets and lies, strong characters and forbidden romance and a touch of the supernatural." —The Atlanta Journal-Constitution

"A setting inspired by ancient Rome; a fierce battle for freedom in the face of tyranny; and a villain who makes Cersei Lannister and Dolores Umbridge look like a pair of pathetic amateurs...An Ember in the Ashes is at the top of our must-read list for 2015." —MTV.com

"Be prepared to be blown away by this fantasy-thriller-adventure." —Girls' Life

"An Ember in the Ashes is a book that's too good to put down." —RedEye

"Perfect for fans of Maggie Stiefvater's The Scorpio Races or Sarah Maas's Throne of Glass series…The book is already set to be a film, which will be EPIC!" —TeenVogue.com

* "Tahir's deft, polished debut alternates between two very different perspectives on the same brutal world, deepening both in the contrast. In a tale brimming with political intrigue and haunted by supernatural forces, the true tension comes from watching Elias and Laia struggle to decide where their loyalties lie." —Publishers Weekly, starred review

"Tahir's world-building is wonderfully detailed and the setting is an unusual one for fantasy novels. All of her characters, even minor ones, are fully realized....For fans of Game of Thrones and of Melina Marchetta's Finnikin of the Rock." —School Library Journal

"An original, well-constructed fantasy world...truly engaging." —Kirkus Reviews

"An epic fantasy debut about an orphan fighting for her family and a soldier fighting for his freedom. It's a story that's literally burning to be told." —Hypable.com

"First-time novelist Tahir has written an ambitious sword-and-sand adventure story that is notable for its suspense and scope." —Booklist

"Here's one of the year's most anticipated young-adult debuts." —io9.com

"I was so engrossed with this book that I missed a connecting flight. If that doesn't convince you to read An Ember in the Ashes, I don't know what will. An explosive, heartbreaking, epic debut that will keep you glued to the pages. I hope the world's ready for Sabaa Tahir." —Marie Lu, New York Times bestselling author of Legend

"With An Ember in the Ashes, Sabaa Tahir shows us light in the darkness, hope in a world of despair, and the human spirit reaching for greatness in difficult times." —#1 New York Times bestselling author Brandon Sanderson

"An Ember in the Ashes is a spectacular page turner that asks readers to consider how far they'd go to save the ones they love. Sabaa Tahir is the next superstar in young adult fiction and her debut is as cinematic as Gladiator and as high-stakes as Game of Thrones."—Holly Goldberg Sloan, New York Times bestselling author of Counting by 7s

"A heart-pounding story of love and loss, with the most original world-building I've read all year. Deeply felt and deeply moving, I could not put it down." —Margaret Stohl, New York Times bestselling co-author of Beautiful Creatures

"This electric debut is a pulse-pounding action-packed Romeo and Juliet story in a richly imagined world with a great twist and heroic characters you'll root for and won't stop thinking about." —Melissa de la Cruz, New York Times bestselling author of Frozen and The Ring and the Crown
Product Details
Publisher : Razorbill; Reprint edition (February 9, 2016)
Language : English
Paperback : 480 pages
ISBN-10 : 1595148043
ISBN-13 : 978-1595148049
Reading age : 12 years and up
Lexile measure : HL680L
Grade level : 7 - 9
Item Weight : 1.2 pounds
Dimensions : 6 x 1.25 x 9 inches
Customer Reviews:
4.6 out of 5 stars 3,413 ratings
By the Same Author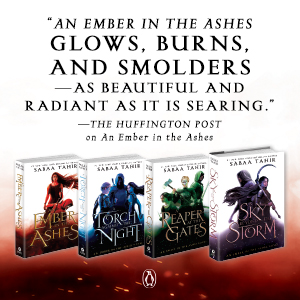 About the Author
Sabaa Tahir grew up in California's Mojave Desert at her family's eighteen-room motel. There, she spent her time devouring fantasy novels, raiding her brother's comic book stash, and playing guitar badly. She began writing An Ember in the Ashes while working nights as a newspaper editor. She likes thunderous indie rock, garish socks, and all things nerd. Sabaa currently lives in the San Francisco Bay Area with her family.

For more information, please visit Sabaa at SabaaTahir.com or on Twitter @SabaaTahir.
Best Sellers
Red Hot Reads
The perfect choice for new & noteworthy releases
Hot Authors (FICTION)
Bookseller's Note
Please note our books are brand new and supplied directly from the publishers.
They are not publisher's returns, remainders or sourced from bookfairs
We do run out of stocks for some titles while every effort has been made to ensure stock is available for all the titles. Hence, we would greatly appreciate if you could Whatsapp or DM us to check on a stock's status before placing your order
Store and online prices may vary due to currency fluctuations.
Pre-orders may be subjected to publisher's or shipping delay
For titles not available, please Whatsapp your order to +6012-2952290
Delivery during CMCO
Due to the aftermath from Covid-19 crisis, all our overseas shipments (that includes a lot of customer orders) have been suspended until further notice. We seek your patience and understanding in this matter.

We still continue to process the online orders but deliveries might be delayed due to the restrictive movements, as even essential services might be working with a skeletal workforce.
In addition, due to a surge in online sales during this CMCO, we would greatly appreciate if you could whatsapp or DM us to check on a stock's status before placing your order.
Urgent orders will not be entertained.
FAQ
1. General Information
BookaliciousMy.easy.co is an online bookstore that allows you to browse, search, as well as buy books online.
2. Product and Services
Locating a book
Please compute the book title or author or ISBN or keyword at the search box and then press the 'search' button.

Price difference between the online store and the physical bookstores
There is price difference

Book/item received incorrect or damaged
Please note we only allow refund for incorrect or defective book/item(s) delivered. However, the policy requires that the incorrect or damaged book be returned to the following address within 7 days from the date of receipt of the book.

Please send your return item(s) to:
BOOKALICIOUS SDN BHD
Lot G22 Ground Floor
The Summit USJ Mall
47600 Subang Jaya
Selangor Darul Ehsan
Phone: 012-2952290

Titles not listed in the online store
Please whatsapp 012-2952290 for enquiries on special orders.
3. Ordering
Placing an order
Step 1: Select the books/items of your choice,
Step 2: Click on the "Add to Cart" icon to continue shopping
Step 3: Key in your email and password. If you are a new customer, fill in details by clicking "Create Account" link. Alternatively, you can use your Facebook Login
Step 4: Check the details of the item(s) you have ordered at your Order Summary,
Step 5: Key in your shipping preferences and delivery address, and click Place Order Now
Step 6: The delivery charges will be shown. Please Re-check your Order Summary. Note: Once confirmed, your order cannot be cancelled/amended.
Step 7: We only accept bank transfer, credit card, GrabPay, TnGPay and Boost as mode of payment. Our bank details is stated at the Payment Details section. Click Place Order Now
Step 8: To verify the payment, please key-in the pertinent details and upload your payment acknowledgement or bank-in slip as proof of payment.
Order confirmation
An e-mail will be sent to you to confirm your order. Also, an Order ID will be given to you, which you can use to check your order status.

Changes to your order
We don't allow amendment to your order. Your order is non-refundable and unchangeable once your order is confirmed.

Order status
We will update you the shipment details via email that encompasses the courier provider, tracking reference and a tracking link once we have posted the item(s).
4. Delivery and Collection
Postal charges are calculated based on weight, dimensions and destination.
If product is in-stock, delivery is within

3 to 14 business days

.
If due to any unforeseen reasons that any product(s) in a Transaction is not-in-stock, we will be in contact with the customer should the whole order be cancelled, whether the customer accepts partial delivery or replace the product(s) that is unavailable.
In the event that the item(s) or parcel is undelivered and/or unclaimed by the customer from Courier Company and item(s) / parcel is returned to Bookalicious Sdn Bhd, we will cancel and refund the order. Customer will have to re-submit a fresh new order. Re-delivery request shall NOT be entertained.
Free Shipping within Malaysia is available for orders above a

minimum purchase amount of RM210

.

Orders will be shipped on business days only. Please note business days exclude public holidays and weekends.
5. Returns and Refunds (FOR ONLINE PURCHASES ONLY)
Return based on "change of mind" is not accepted by any means.
We will accept returns from customers for purchases sent back and received by us within 7 days of receipt of the shipment ONLY on these following conditions:
Incorrect or defective item(s) delivered; and
The items returned to us is in its original condition.
We will extend a full refund for the price of any item that fulfills the above requirements. We regret that shipping cost for your purchase will only be refunded if the return had been due to an oversight on our part.
Please send your return item(s) to:
BOOKALICIOUS SDN BHD
Lot G22 Ground Floor
The Summit USJ Mall
47600 Subang Jaya
Selangor Darul Ehsan
Phone: 012-2952290
In the event that the item(s) or parcel is undelivered and/or unclaimed by the customer from our courier partners and item(s)/ parcel is returned to Bookalicious Sdn Bhd, we will cancel and refund the order. Re-delivery request shall NOT be entertained. A fresh new order has to be re-submitted.
Should you have any problems or inquiries regarding our Return Policy, please feel free to whatsapp us at 012-2952290
IMPORTANT: Please WS or DM stock status before placing your order.