Product Description
Winner of the 2020 Epigram Books Fiction Prize

When a renegade prophet vanishes in a cloud of pigeons in Kuala Lumpur, chorister and first witness Gabriel finds himself press-ganged into a wild road trip down the Malaysian coast. Meanwhile, in a sleepy town by the sea, Lydia traces the links between her late grandaunt's eccentric lover and her involvement in the Communist Emergency. As Lydia and Gabriel enter a shadowy mythology of serpents, Sufi saints and plainclothes gods, they must grapple with the theologies and histories they once trusted, in a country more perilously punk than they'd ever conceived of.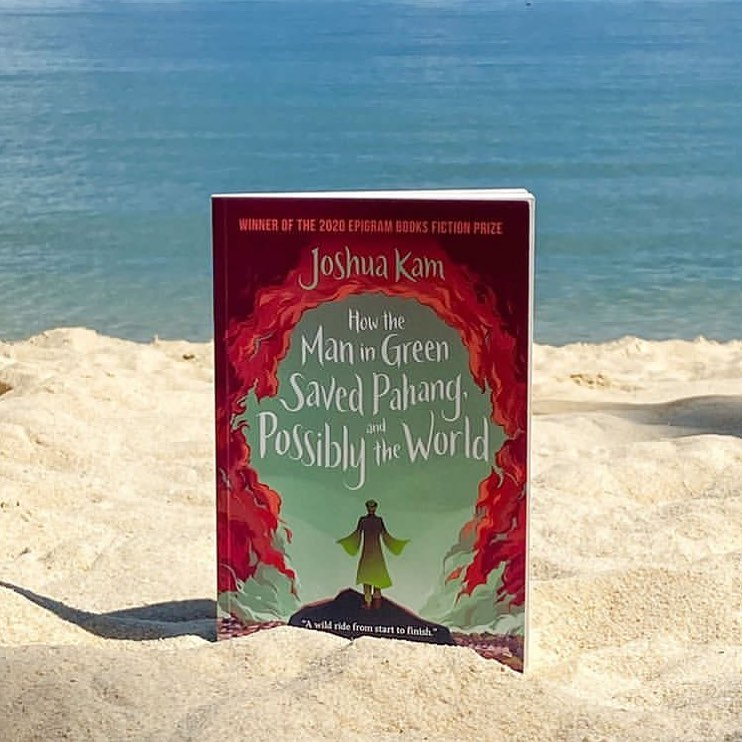 Reviews


"A dizzying tale of saints, heists, maybe-queens." —The Straits Times
"Quite the debut, accomplished, deft, unabashed and exuberant." —Asian Review of Books
"Author Joshua Kam's debut book brings Asian mythology to the forefront."—The Sun Daily
Malaysian author blurs myths and truths as you escape on a wild road trip ... This whimsical, rollercoaster ride of a book also carries a tale of old and new Malaysia colliding, with various figures from local history, politics and folklore coming together in an epic quest for the soul of the nation.—newsday24.com
"In essence, (the novel) acts as a love letter to Malaysian folklore and history, showcasing an impressive degree of representation and imagination that never feels shoehorned into the narrative."—Bakchormeeboy
"What a trip! This 21st-century adventure quest with an Islamic saint also brings us on a madcap tour through a multitude of Malaysian mythologies— Malay epics, Taoist pantheons, WW2/Emergency/Merdeka heroics, and more. Even more vitally, it gives us hope amidst the dire news of our era— political corruption, environmental devastation and bigotry—reassuring us that the human/divine spirit still flourishes in the late-capitalist tropics, and is ultimately destined to triumph over evil. An absolute delight, and truly, deliciously Malaysian." —Ng Yi-Sheng, award-winning author of Lion City

"Borgesian, even Manichean in spirit, with almost reverent borrowings from Nusantara mythologies to Abrahamic religiosity, this novel is a wild ride from start to finish, riffing on Malayan history, politics and folklore in a surprisingly redemptive arc, while remaining deeply interrogative about what it means to keep true to goodness in the ever-changing face of evil." —Cyril Wong, two-time Singapore Literature Prize-winning author of This Side of Heaven


Product Details
ISBN: 9789814901048
Format: Paperback
Size: 152 x 225mm
Pages: 272pp
Published: July 2020
About the Author
Joshua Kam Chun Wah grew up in Kuala Lumpur, Malaysia, taking frequent trips with his father down the coastal state of Pahang. A history graduate of Hope College, Michigan, he's developed a hunger for the mythology of place-names, rebel peasants, and sea gods his family inherited from generations by the water. Dividing his time between Malaysia and graduate school in Michigan, he interviews Nusantara mystics for a living, bakes when he can and drinks when he shouldn't. How the Man in Green Saved Pahang, and Possibly the World is his first novel.
Best Sellers
Red Hot Reads
The perfect choice for new & noteworthy releases
Hot Authors (FICTION)
Bookseller's Note
Please note our books are brand new and supplied directly from the publishers.
They are not publisher's returns, remainders or sourced from bookfairs
We do run out of stocks for some titles while every effort has been made to ensure stock is available for all the titles. Hence, we would greatly appreciate if you could Whatsapp or DM us to check on a stock's status before placing your order
Store and online prices may vary due to currency fluctuations.
Pre-orders may be subjected to publisher's or shipping delay
For titles not available, please Whatsapp your order to +6012-2952290
Delivery during CMCO
Due to the aftermath from Covid-19 crisis, all our overseas shipments (that includes a lot of customer orders) have been suspended until further notice. We seek your patience and understanding in this matter.

We still continue to process the online orders but deliveries might be delayed due to the restrictive movements, as even essential services might be working with a skeletal workforce.
In addition, due to a surge in online sales during this CMCO, we would greatly appreciate if you could whatsapp or DM us to check on a stock's status before placing your order.
Urgent orders will not be entertained.
FAQ
1. General Information
BookaliciousMy.easy.co is an online bookstore that allows you to browse, search, as well as buy books online.
2. Product and Services
Locating a book
Please compute the book title or author or ISBN or keyword at the search box and then press the 'search' button.

Price difference between the online store and the physical bookstores
There is price difference

Book/item received incorrect or damaged
Please note we only allow refund for incorrect or defective book/item(s) delivered. However, the policy requires that the incorrect or damaged book be returned to the following address within 7 days from the date of receipt of the book.

Please send your return item(s) to:
BOOKALICIOUS SDN BHD
Lot G22 Ground Floor
The Summit USJ Mall
47600 Subang Jaya
Selangor Darul Ehsan
Phone: 012-2952290

Titles not listed in the online store
Please whatsapp 012-2952290 for enquiries on special orders.
3. Ordering
Placing an order
Step 1: Select the books/items of your choice,
Step 2: Click on the "Add to Cart" icon to continue shopping
Step 3: Key in your email and password. If you are a new customer, fill in details by clicking "Create Account" link. Alternatively, you can use your Facebook Login
Step 4: Check the details of the item(s) you have ordered at your Order Summary,
Step 5: Key in your shipping preferences and delivery address, and click Place Order Now
Step 6: The delivery charges will be shown. Please Re-check your Order Summary. Note: Once confirmed, your order cannot be cancelled/amended.
Step 7: We only accept bank transfer, credit card, GrabPay, TnGPay and Boost as mode of payment. Our bank details is stated at the Payment Details section. Click Place Order Now
Step 8: To verify the payment, please key-in the pertinent details and upload your payment acknowledgement or bank-in slip as proof of payment.
Order confirmation
An e-mail will be sent to you to confirm your order. Also, an Order ID will be given to you, which you can use to check your order status.

Changes to your order
We don't allow amendment to your order. Your order is non-refundable and unchangeable once your order is confirmed.

Order status
We will update you the shipment details via email that encompasses the courier provider, tracking reference and a tracking link once we have posted the item(s).
4. Delivery and Collection
Postal charges are calculated based on weight, dimensions and destination.
If product is in-stock, delivery is within

3 to 14 business days

.
If due to any unforeseen reasons that any product(s) in a Transaction is not-in-stock, we will be in contact with the customer should the whole order be cancelled, whether the customer accepts partial delivery or replace the product(s) that is unavailable.
In the event that the item(s) or parcel is undelivered and/or unclaimed by the customer from Courier Company and item(s) / parcel is returned to Bookalicious Sdn Bhd, we will cancel and refund the order. Customer will have to re-submit a fresh new order. Re-delivery request shall NOT be entertained.
Free Shipping within Malaysia is available for orders above a

minimum purchase amount of RM210

.

Orders will be shipped on business days only. Please note business days exclude public holidays and weekends.
5. Returns and Refunds (FOR ONLINE PURCHASES ONLY)
Return based on "change of mind" is not accepted by any means.
We will accept returns from customers for purchases sent back and received by us within 7 days of receipt of the shipment ONLY on these following conditions:
Incorrect or defective item(s) delivered; and
The items returned to us is in its original condition.
We will extend a full refund for the price of any item that fulfills the above requirements. We regret that shipping cost for your purchase will only be refunded if the return had been due to an oversight on our part.
Please send your return item(s) to:
BOOKALICIOUS SDN BHD
Lot G22 Ground Floor
The Summit USJ Mall
47600 Subang Jaya
Selangor Darul Ehsan
Phone: 012-2952290
In the event that the item(s) or parcel is undelivered and/or unclaimed by the customer from our courier partners and item(s)/ parcel is returned to Bookalicious Sdn Bhd, we will cancel and refund the order. Re-delivery request shall NOT be entertained. A fresh new order has to be re-submitted.
Should you have any problems or inquiries regarding our Return Policy, please feel free to whatsapp us at 012-2952290
IMPORTANT: Please WS or DM stock status before placing your order.