The New York Times No.1 bestselling YA crime thriller that everyone is talking about. Soon to be a major BBC series!
A stunning collectors edition of the first book in this bestselling, award-winning series, presented in a beautiful hardback format with an introductory letter from the author, sprayed edges and a ribbon bookmark.
The case is closed. Five years ago, schoolgirl Andie Bell was murdered by Sal Singh. The police know he did it. Everyone in town knows he did it.
But having grown up in the same small town that was consumed by the crime, Pippa Fitz-Amobi isn't so sure. When she chooses the case as the topic for her final project, she starts to uncover secrets that someone in town desperately wants to stay hidden. And if the real killer is still out there, how far will they go to keep Pip from the truth … ?
Perfect for fans of One of Us Is Lying, Gone Girl, We Were Liars and Riverdale
Holly Jackson is the author of the bestselling, award-winning A Good Girl's Guide to Murder trilogy. She lives in London and aside from reading and writing, she enjoys playing video games and watching true-crime documentaries so she can pretend to be a detective. Holly can be found on Twitter and Instagram @hojay92 and TikTok @hojax92
Holly Jackson's book 'A Good Girl's Guide to Murder' was a Sunday Times bestseller w/c 08-05-2023.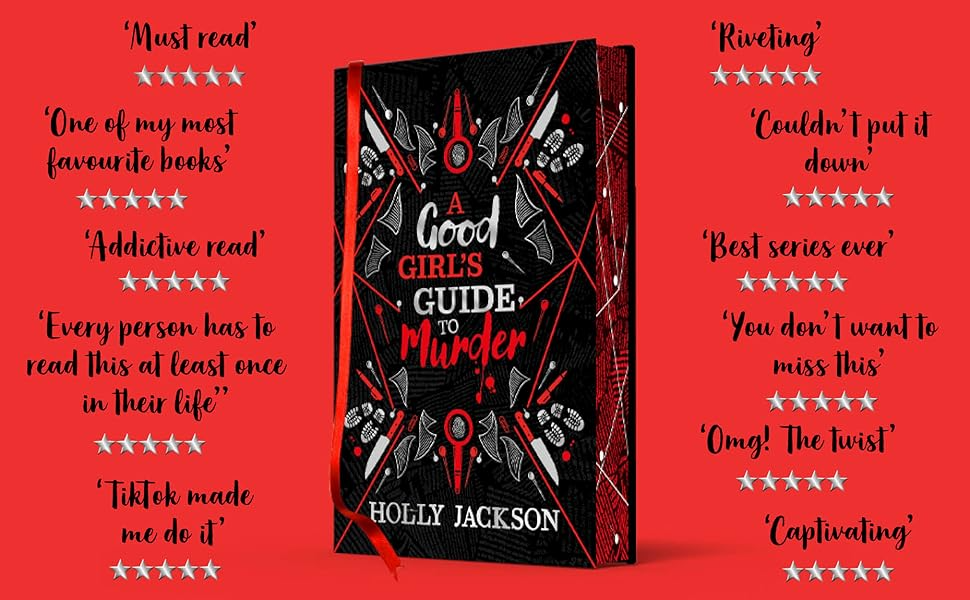 Review
'A taut, compulsively readable, elegantly plotted thriller', Guardian
'A Twisty, compelling UK YA debut', Fiona Noble, The Bookseller
'Prepare to be murdered by this book. Dark, dangerous and intricately plotted – my heart literally pounded. I haven't been this addicted to anything since Serial. Holly Jackson is the next big thing, I promise.', Laura Steven, author of the critically acclaimed The Exact Opposite of Okay
'Twisty, compulsive and so, so, clever', Savannah Brown, author of The Truth About Keeping Secrets
'This book was a delight from start to finish. I laughed. I cried. And I very much enjoyed attempting to solve the case with Pip (who I now want to be my best friend). I didn't guess the twist, and I don't think many people will. Holly Jackson has absolutely killed it with her debut!', Aisha Bushby, author of A Pocketful of Stars and contributor to the award-winning A Change is Gonna Come
'That ending! Pure genius', Yasmin Rahman, author of All the Things We Never Said
'In a League of its Own', Lucy Powrie, author of The Paper & Hearts Society

Product details
Publisher ‏ : ‎ Electric Monkey; Special Edition (12 Oct. 2023)
Language ‏ : ‎ English
Hardcover ‏ : ‎ 448 pages
ISBN-10 ‏ : ‎ 0008653143
ISBN-13 ‏ : ‎ 978-0008653149
Reading age ‏ : ‎ 14 years and up
Dimensions ‏ : ‎ 14.1 x 3.9 x 22.2 cm
Customer reviews: 4.6 4.6 out of 5 stars 34,560 ratings