Product Description

Prepare to be dazzled by this new edition of J.K. Rowling's Harry Potter and the Chamber of Secrets, designed and illustrated by MinaLima.
With over 150 full-colour illustrations and eight exclusive, interactive paper-engineered elements, readers can travel via the Floo Network, encounter the Whomping Willow, reveal the spiral staircase to Dumbledore's office and even pull Mandrakes from their pots!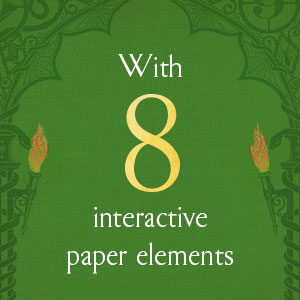 This spectacular edition is the perfect gift for Harry Potter fans of all ages, a wonderful addition to any collector's bookshelf and an enchanting way to introduce this beloved series to a new generation of readers.

Video
Product Details
Publisher ‏ : ‎ Bloomsbury Children's Books (19 October 2021)
Language ‏ : ‎ English
Hardcover ‏ : ‎ 400 pages
ISBN-10 ‏ : ‎ 152663788X
ISBN-13 ‏ : ‎ 978-1526637888
Item Weight ‏ : ‎ 1 kg 150 g
Dimensions ‏ : ‎ 23.5 x 5.1 x 16.1 cm
Country of Origin ‏ : ‎ United Kingdom
Customer Reviews:
About the Author
J.K. Rowling is best-known as the author of the seven Harry Potter books, which were published between 1997 and 2007. The enduringly popular adventures of Harry, Ron and Hermione have gone on to sell over 500 million copies, be translated into over 80 languages and made into eight blockbuster films.

Alongside the Harry Potter series, J.K. Rowling also wrote three short companion volumes for charity: Quidditch Through the Ages and Fantastic Beasts and Where to Find Them, in aid of Comic Relief, and The Tales of Beedle the Bard, in aid of Lumos. The companion books and original series are all available as audiobooks.

In 2016 J.K. Rowling collaborated with playwright Jack Thorne and director John Tiffany to continue Harry's story in a stage play, Harry Potter and the Cursed Child, which opened in London and is now also playing in Europe, the USA and Australia.

In the same year, she made her debut as a screenwriter with the film Fantastic Beasts and Where to Find Them. Inspired by the original companion volume, it was the first in a series of new adventures featuring wizarding world magizoologist Newt Scamander. The second, Fantastic Beasts: The Crimes of Grindelwald, was released in 2018.

Both the screenplays, as well as the script of Harry Potter and the Cursed Child, are also available as published books.

Fans of Fantastic Beasts and Harry Potter can find out more at www.WizardingWorld.com.

J.K. Rowling also writes novels for adults. The Casual Vacancy was published in 2012 and adapted for television in 2015. Under the pseudonym Robert Galbraith, she is also the author of the highly acclaimed 'Strike' crime series, featuring private detective Cormoran Strike and his assistant Robin Ellacott. Four books and audiobooks have been published in the series so far and have also been adapted for television by the BBC and HBO. The fifth book, Troubled Blood, is to be published in 2020.

J.K. Rowling's 2008 Harvard Commencement speech was published in 2015 as an illustrated book, Very Good Lives: The Fringe Benefits of Failure and the Importance of Imagination, sold in aid of Lumos and university-wide financial aid at Harvard.

In 2020, J.K. Rowling released for free online the serialisation of The Ickabog, an original fairy tale, which she wrote over ten years ago as a bedtime story for her younger children. She decided to share the personal family favourite to help entertain children, parents and carers confined at home during the Coronavirus lockdown.

The story will be published as a book (hardback, ebook and audio) in the English language in November 2020, with international editions to follow soon after. J.K. Rowling will be donating her royalties to her charitable trust, The Volant Charitable Trust, to assist vulnerable groups who have been particularly impacted by the Covid-19 pandemic in the UK and internationally.

As well as receiving an OBE and Companion of Honour for services to children's literature, J.K. Rowling has received many other awards and honours, including France's Legion d'Honneur, Spain's Prince of Asturias Award and Denmark's Hans Christian Andersen Award.

www.jkrowling.com