Product description

Filled with all of the action, emotion, and lyrical writing that brought readers to Sky in the Deep, New York Times bestselling author Adrienne Young returns with Fable, the first book in this new captivating duology.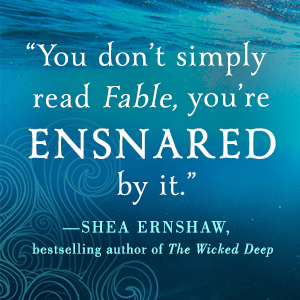 Welcome to a world made dangerous by the sea and by those who wish to profit from it. Where a young girl must find her place and her family while trying to survive in a world built for men.

As the daughter of the most powerful trader in the Narrows, the sea is the only home seventeen-year-old Fable has ever known. It's been four years since the night she watched her mother drown during an unforgiving storm. The next day her father abandoned her on a legendary island filled with thieves and little food. To survive she must keep to herself, learn to trust no one and rely on the unique skills her mother taught her. The only thing that keeps her going is the goal of getting off the island, finding her father and demanding her rightful place beside him and his crew. To do so Fable enlists the help of a young trader named West to get her off the island and across the Narrows to her father.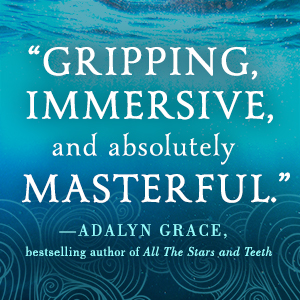 But her father's rivalries and the dangers of his trading enterprise have only multiplied since she last saw him and Fable soon finds that West isn't who he seems. Together, they will have to survive more than the treacherous storms that haunt the Narrows if they're going to stay alive.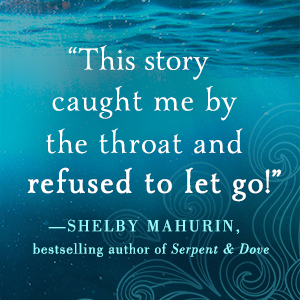 Fable takes you on a spectacular journey filled with romance, intrigue and adventure.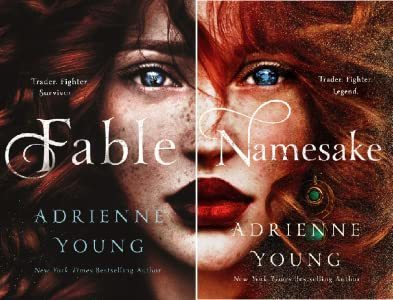 Review
For Fable
"Young (The Girl the Sea Gave Back) blends adventure and intrigue in this lush nautical duology opener, crafting a flinty world in which danger lurks at every turn." - Publishers Weekly

"An exciting tale of lost treasure, love, and survival." - School Library Journal

"A vividly drawn maritime setting, dramatic sea dives and daring rescues, not one but two formidable villains, and a swoony romance make this a treat for seafarers and landlubbers alike." - The Bulletin of the Center for Children's Books

"A dark maritime fantasy...immersive...and rich in sensory details. For readers who can't get enough of strong female protagonists..." - Kirkus

"As an author, Young's strength is in her ability to craft both strong female protagonists and worlds that are filled with realistic details." - Culturess

"The salty sea and the promise of something hidden in its depths, had me reading this book at a furious pace. You don't simply read Fable, you are ensnared by it. This is Adrienne Young's best work of storytelling yet!" - Shea Ernshaw, New York Times bestselling author of The Wicked Deep

"Gripping, immersive, and absolutely masterful, Fable reels you in with the promise of beauty, and holds you tight with Young's signature grit. I couldn't turn the pages quickly enough." - Adalyn Grace, New York Times bestselling author of All The Stars and Teeth

"I could taste the salt in the air and feel the waves beneath the Marigold. In a brutal world Fable shines as tenacious yet vulnerable, unafraid to do what she must to survive. This story caught me by the throat and refused to let go!" - Shelby Mahurin, New York Times bestselling author of Serpent & Dove

Epic Reads, The 23 Most Anticipated YA Books to Read in September
For The Girl the Sea Gave Back
"Gripping and exquisitely written. The Girl the Sea Gave Back tore at my heart strings until I was completely unraveled. Readers will fall in love with this story, whether they are fans of Sky in the Deep or new to Adrienne Young's breathtaking world." - Stephanie Garber, New York Times bestselling author of Caravel
"Eerie and beautiful, The Girl the Sea Gave Back is set in a world so vivid, you can almost touch it. I devoured this story of a lonely, powerful young woman with the ability to change the fate of her world, and the brave young chieftain who must stop her at all costs." - Kristen Ciccarelli, bestselling author of The Last Namsara
"Ignore this omen at your own peril--you will love this book! Perfect for fans of The Last Kingdom, it really immersed me in the Viking world that felt so mystical, complex, and fully formed. From the moment we first meet them, Tova and Halvard unravel the complicated threads of family, fate, and destiny." - A. C. Gaughen, author of Reign the Earth
About the Author
Adrienne Young is a born and bred Texan turned California girl. She is a foodie with a deep love of history and travel and a shameless addiction to coffee. When she's not writing, you can find her on her yoga mat, scouring antique fairs for old books, sipping wine over long dinners, or disappearing into her favorite art museums. She lives with her documentary filmmaker husband and their four little wildlings beneath the West Coast sun.
Adrienne is the author of the New York Times bestseller Sky in the Deep and The Girl the Sea Gave Back.
By the Same Author
Product details
Grade level : 7 - 9
Item Weight : 12.8 ounces
Hardcover : 368 pages
ISBN-13 : 978-1250254368
Dimensions : 5.67 x 1.36 x 8.55 inches
Publisher : Wednesday Books (September 1, 2020)
Language: : English
Reading level : 12 - 18 years
Customer Reviews:
Best Sellers
Red Hot Reads
The perfect choice for new & noteworthy releases
Hot Authors (FICTION)
Bookseller's Note
Please note our books are brand new and supplied directly from the publishers.
They are not publisher's returns, remainders or sourced from bookfairs
We do run out of stocks for some titles while every effort has been made to ensure stock is available for all the titles. Hence, we would greatly appreciate if you could Whatsapp or DM us to check on a stock's status before placing your order
Store and online prices may vary due to currency fluctuations.
Pre-orders may be subjected to publisher's or shipping delay
For titles not available, please Whatsapp your order to +6012-2952290
Delivery during CMCO
Due to the aftermath from Covid-19 crisis, all our overseas shipments (that includes a lot of customer orders) have been suspended until further notice. We seek your patience and understanding in this matter.

We still continue to process the online orders but deliveries might be delayed due to the restrictive movements, as even essential services might be working with a skeletal workforce.
In addition, due to a surge in online sales during this CMCO, we would greatly appreciate if you could whatsapp or DM us to check on a stock's status before placing your order.
Urgent orders will not be entertained.
FAQ
1. General Information
BookaliciousMy.easy.co is an online bookstore that allows you to browse, search, as well as buy books online.
2. Product and Services
Locating a book
Please compute the book title or author or ISBN or keyword at the search box and then press the 'search' button.

Price difference between the online store and the physical bookstores
There is price difference

Book/item received incorrect or damaged
Please note we only allow refund for incorrect or defective book/item(s) delivered. However, the policy requires that the incorrect or damaged book be returned to the following address within 7 days from the date of receipt of the book.

Please send your return item(s) to:
BOOKALICIOUS SDN BHD
Lot G22 Ground Floor
The Summit USJ Mall
47600 Subang Jaya
Selangor Darul Ehsan
Phone: 012-2952290

Titles not listed in the online store
Please whatsapp 012-2952290 for enquiries on special orders.
3. Ordering
Placing an order
Step 1: Select the books/items of your choice,
Step 2: Click on the "Add to Cart" icon to continue shopping
Step 3: Key in your email and password. If you are a new customer, fill in details by clicking "Create Account" link. Alternatively, you can use your Facebook Login
Step 4: Check the details of the item(s) you have ordered at your Order Summary,
Step 5: Key in your shipping preferences and delivery address, and click Place Order Now
Step 6: The delivery charges will be shown. Please Re-check your Order Summary. Note: Once confirmed, your order cannot be cancelled/amended.
Step 7: We only accept bank transfer, credit card, GrabPay, TnGPay and Boost as mode of payment. Our bank details is stated at the Payment Details section. Click Place Order Now
Step 8: To verify the payment, please key-in the pertinent details and upload your payment acknowledgement or bank-in slip as proof of payment.
Order confirmation
An e-mail will be sent to you to confirm your order. Also, an Order ID will be given to you, which you can use to check your order status.

Changes to your order
We don't allow amendment to your order. Your order is non-refundable and unchangeable once your order is confirmed.

Order status
We will update you the shipment details via email that encompasses the courier provider, tracking reference and a tracking link once we have posted the item(s).
4. Delivery and Collection
Postal charges are calculated based on weight, dimensions and destination.
If product is in-stock, delivery is within

3 to 14 business days

.
If due to any unforeseen reasons that any product(s) in a Transaction is not-in-stock, we will be in contact with the customer should the whole order be cancelled, whether the customer accepts partial delivery or replace the product(s) that is unavailable.
In the event that the item(s) or parcel is undelivered and/or unclaimed by the customer from Courier Company and item(s) / parcel is returned to Bookalicious Sdn Bhd, we will cancel and refund the order. Customer will have to re-submit a fresh new order. Re-delivery request shall NOT be entertained.
Free Shipping within Malaysia is available for orders above a

minimum purchase amount of RM210

.

Orders will be shipped on business days only. Please note business days exclude public holidays and weekends.
5. Returns and Refunds (FOR ONLINE PURCHASES ONLY)
Return based on "change of mind" is not accepted by any means.
We will accept returns from customers for purchases sent back and received by us within 7 days of receipt of the shipment ONLY on these following conditions:
Incorrect or defective item(s) delivered; and
The items returned to us is in its original condition.
We will extend a full refund for the price of any item that fulfills the above requirements. We regret that shipping cost for your purchase will only be refunded if the return had been due to an oversight on our part.
Please send your return item(s) to:
BOOKALICIOUS SDN BHD
Lot G22 Ground Floor
The Summit USJ Mall
47600 Subang Jaya
Selangor Darul Ehsan
Phone: 012-2952290
In the event that the item(s) or parcel is undelivered and/or unclaimed by the customer from our courier partners and item(s)/ parcel is returned to Bookalicious Sdn Bhd, we will cancel and refund the order. Re-delivery request shall NOT be entertained. A fresh new order has to be re-submitted.
Should you have any problems or inquiries regarding our Return Policy, please feel free to whatsapp us at 012-2952290
IMPORTANT: Please WS or DM stock status before placing your order.